Journées Québec Génie et Technique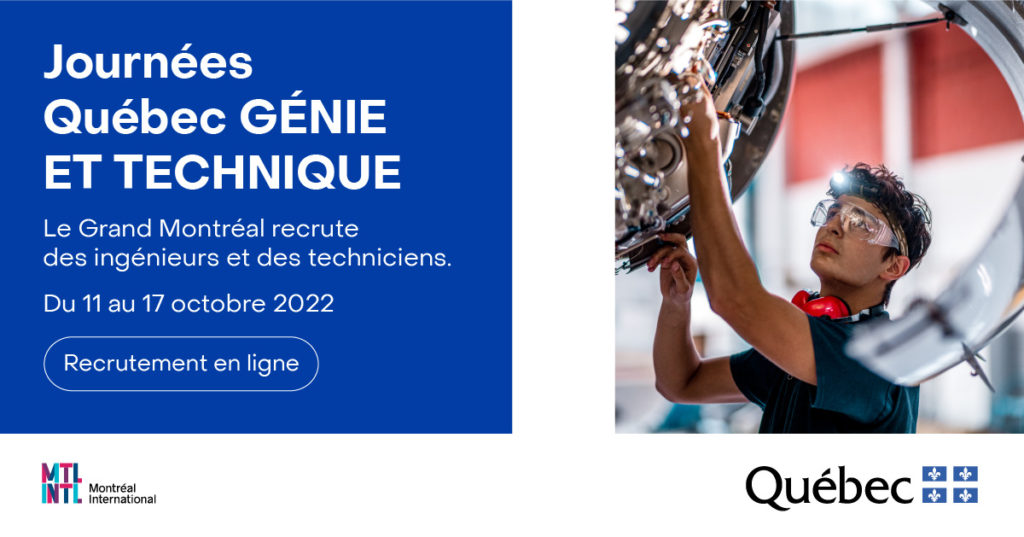 Recruit qualified international workers with us!
Will you participate in this first ever engineering/technical recruitment mission? The Journées Québec target some of the most in-demand expertise in the Greater Montréal area, in several fields related to engineering and its technical specializations.
Take advantage of a promotional campaign in the most promising geographic areas, such as Europe, West Africa, Latin America and Maghreb.
Dates to remember:
June 20 to August 5: company registration
August 15 to September 29: selection of candidates
October 11 to 17: on-line interviews

Main targeted positions:
Civil Engineers and technicians
Electrical and Electronics Engineers and Technicians
Industrial and manufacturing engineers and technicians
Mechanical engineers and technicians
Other technical trades: machinists, welders, etc.
A turnkey service
Post your job offers on TalentMontreal.com
Benefit from a personalized dashboard and a selection algorithm for the best profiles
Benefit fromTake advantage of an international promotion campaign and targeted candidate identification
Get assistance in obtaining work permits (under certain conditions)
The Journées Québec missions are international recruitment events organized in collaboration with the Government of Québec. During this edition, participating companies will have the opportunity to meet candidates on-line for one week. The virtual formula will offer great flexibility on the interview schedule and will allow you to benefit from powerful web tools via our Talent Montréal portal.
---
Over 400 companies assisted in the last 10 years