Montréal Express Recruitment – IT, Engineering and Technical Jobs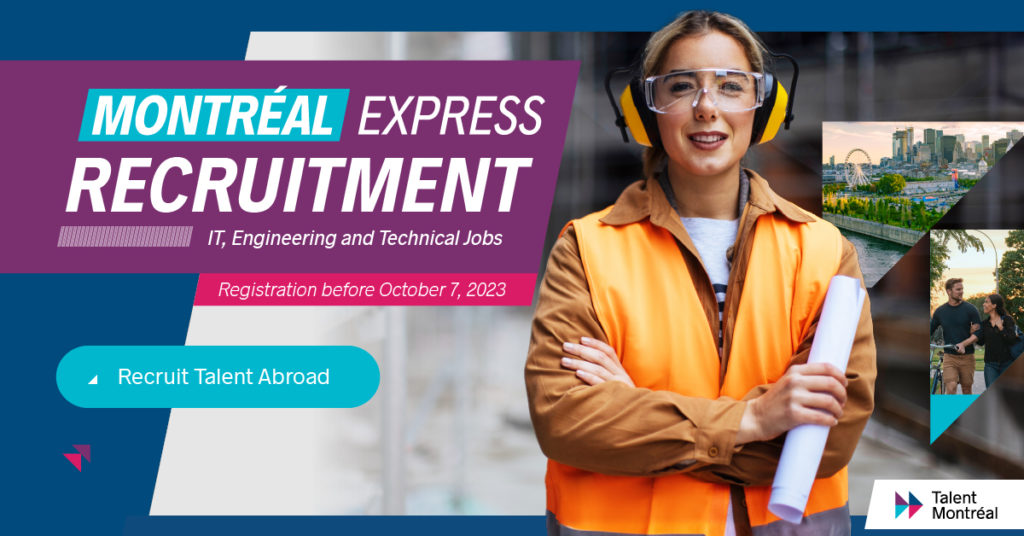 Greater Montréal companies: Recruit your talent abroad with us
Are you looking to recruit experienced international talent in IT, engineering and technical jobs? Find out more today about the Montréal Express Recruitment!
Montréal International, through its Talent Montréal initiative, will be organizing this international recruitment campaign from October 16 to November 16, 2023.
Register your company before October 7, 2023!
Main targeted positions
Engineering
Civil Engineers
Electrical and Electronics Engineers
Industrial and Manufacturing Engineers
Mechanical Engineers
Mining Engineers
IT
Computer Analysts and Consultants
Computer Engineers
Computer Systems Evaluators
Computer Systems Managers
Database Analysts and Data Administrators
Engineering Technologists and Technicians Computer Network Technicians
Graphic Designers and Illustrators
Graphic Design Technicians
Interactive Media Programmers and Developers
Producers, Directors, Choreographers and Related Personnel
Software Engineers and Designers
Technical Sales Specialists – Wholesale
User Support Agents
Web Designers and Developers
Technical Jobs
Civil, Mechanical, Industrial and Manufacturing