Personal taxes
In order to fund the numerous public services that make life so pleasant in Greater Montréal, all residents earning an income are required to pay taxes to the governments of Québec and Canada.
Overview of the tax system:
Tax rates are progressive and increase with income.
For employees, taxes are deducted at source at a pre-determined rate.
Taxpayers must file a tax return detailing their income and deductions each year by April 30.
Numerous tax measures make it possible to considerably reduce the amount of taxes payable, particularly for families.
There is no federal or provincial estate tax.
Here are the tax rates for 2017: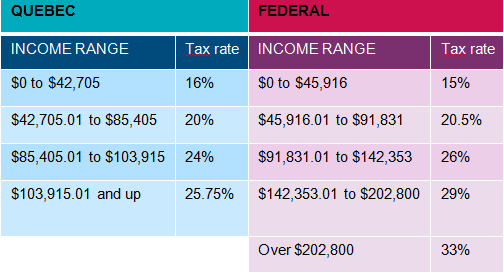 A Québec abatement equal to 16.5% of the basic federal tax applies.
---
Presented by


Jean-François Coutu – CPA, CA, LL.M. Fisc., Associate Partner, Canadian Tax Leader Mazars