COP15 on biodiversity, a showcase for our international organizations
December 6, 2022
From December 7 to 19, Montréal will be hosting COP15, the UN Biodiversity Conference. Our team is mobilized to take part in the event and promote international organizations based in Montréal, including a dozen focused on sustainable development. This is a golden opportunity to showcase everything Montréal has to offer as a host city for international organizations.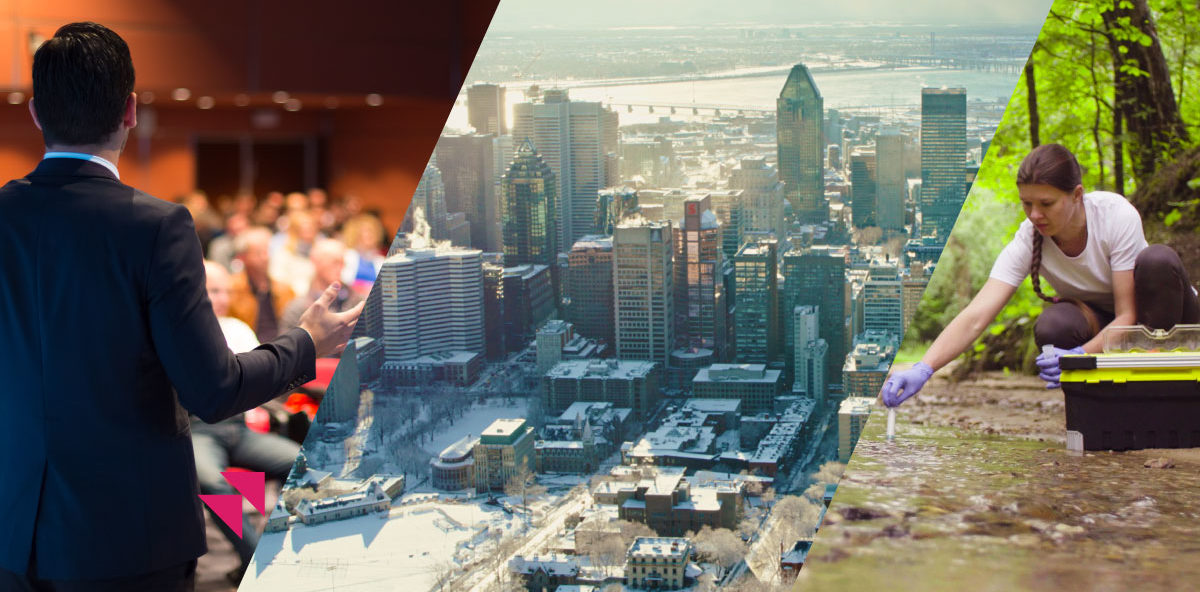 What is COP15?
It is the 15th Conference of the Parties (COP15) to the United Nations Convention on Biological Diversity (CBD). More than 10,000 delegates from around the world are expected at the conference with the aim of adopting a Post-2020 Global Biodiversity Framework.
This framework will provide a global roadmap for the conservation, protection, restoration and sustainable management of biodiversity and ecosystems for the next decade.
Efforts to meet the objectives of the convention are coordinated by the Secretariat of the Convention on Biological Diversity, which is based in Montréal.
What will we do there?
Montréal International will have a booth at COP15. Our team will be on site throughout the conference to present our services to international organizations (IOs) that may be interested in setting up in Montréal. And of course, to promote the advantages of choosing Montréal as a home base.
What's more, Montréal International will be inviting delegates to a roundtable to highlight the work being done by Montréal-based IOs in biodiversity protection and sustainable development. The roundtable will be held on December 14 and the panel will include representatives from several Montréal-based IOs.
For me, this COP is much more than a negotiation platform. It is also a place for discussion where researchers and other stakeholders can propose concrete solutions to move us forward. I will therefore participate with great enthusiasm!
Montréal, a hub for IOs in sustainable development
Montréal is a strategic hub for IOs in sustainable development – the city has 12! – and a place for innovation when it comes to biodiversity protection. Our city's strengths? The dynamic research being conducted in cutting-edge sectors, notably in artificial intelligence, along with a collaborative ecosystem.
Our December 14 side event will be an opportunity to put the spotlight on innovative projects that are part of a global biodiversity approach. It will show the outstanding work being done here to accelerate the transition to greener and egalitarian practices all over the world.
Hosted by my colleague France Brosseau, Vice President, International Organizations and Corporate Affairs at Montréal International, the roundtable will bring together six IOs working for the betterment of our planet from Montréal:
Montréal, the Canadian capital for international organizations
There are 68 of them in Montréal! Together, they help create more dynamic collaboration within a number of Montréal ecosystems, and they generate significant economic spinoff for Québec – more than $450 million in 2020 alone.*
In addition to the 12 IOs in sustainable development, Montréal is home to a dozen other IOs in the civil aviation industry, including ICAO and IATA, as well as four UN agencies and a good many other IOs in various fields, including health, LGBTQ human rights and education.
To learn more about IOs in Montréal, be sure to read the blog post we published on that subject last year: Celebrating nearly 70 international organizations near you.
*Source (in French): "Les retombées économiques associées aux activités des organisations internationales établies à Montréal : une réactualisation pour 2020", KPMG, 2022
The MI team: an asset to Greater Montréal
Montréal International is one of the few economic promotion agencies with a mandate to attract and retain IOs. Nearly half the IOs based in Montréal have benefited from our support in setting up in the city. And the team is always there to accompany Montréal-based IOs, among other things to help them build local partnerships and thrive in their host city. In other words, we are part of this great ecosystem and we help it grow!
To learn more about the services we offer to IOs, click here.