Montréal has a lot to offer Asian companies
October 20, 2023
Home to some 40 countries and 65% of the world's population, Asia-Pacific is currently the fastest growing region in the world, highlighting the importance of being there, on the ground, to increase our visibility.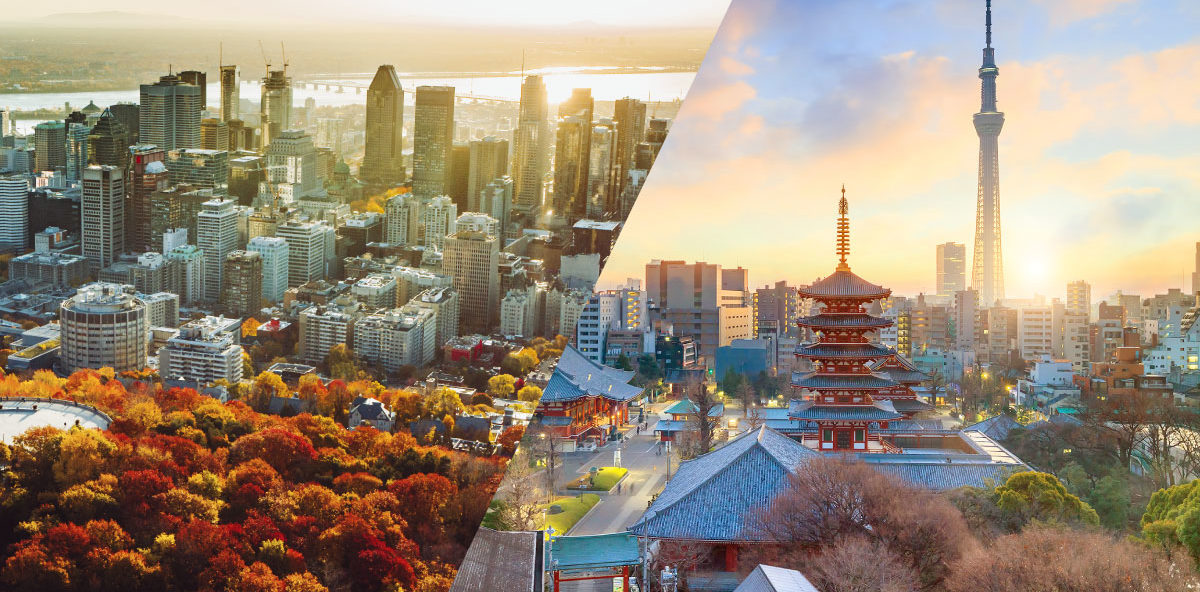 Our workforce and ecosystems are major assets
Many Asia-Pacific companies are active in Montréal, as our figures for the past few years show:
Nearly $1B in foreign direct investment (FDI) from Asia supported by Montréal International from 2019 to 2022
Key sectors: life sciences, IT services, video games, robotics and visual effects
From: South Korea, China, India, Japan, Singapore, Vietnam and Australia
What attracts these players here? The quality and creativity of our workforce and the vitality of our ecosystems. Recognized as a world hub in key industries such as aerospace, artificial intelligence (AI), software development, video games, visual effects, life sciences and health technologies, our metropolitan region has a lot to offer.
Clean technologies, financial technologies and disruptive technologies (deeptech) – AI, robotics, quantum computing, biotechnologies, etc. – are among the sectors we want to prioritize in our promotion efforts in Asia, as Greater Montréal boasts significant strength in applied research in these fields.
Building bridges
This autumn, I will be visiting Taiwan and Hong Kong to meet business leaders in these key sectors, not forgetting the vital electronic components industry.
Taiwan is the world's leading producer of semiconductors (65%) and microchips (90%), essential components for our industries. In addition, a growing number of Taiwanese companies are looking to expand their international markets, creating opportunities for Montréal to seize.
For instance, the arrival in Montréal of WT Microelectronics, one of the world's leading distributors of semiconductor components, will help strengthen the city's position in that industry's global supply chain.
In addition, my colleagues Stéphane Paquet and Mark Maclean will be meeting investors in South Korea and Australia as part of a tour organized by Invest in Canada. South Korea is one of Canada's major trading partners. Our goal is to strengthen our ties there to attract more direct investment from that country.
We'll be just as present on the ground in 2024 to highlight the strengths of our ecosystems and support the ecological transition of our economy. For instance, our Cleantech team will be taking part in two flagship events in the region: the Climate Solutions Conference to be organized by the Asia Pacific Foundation of Canada in Singapore in February, and the Cleantech Forum Asia to be held in May in the same city.
Other hubs to meet Asian investors
Interestingly, we don't always have to cross the Pacific to get results! In fact, half of the FDI from Asia that we've accompanied in recent years (Samsung, Tencent, etc.) came from companies with offices in California. The US West Coast is often the entry point for Asian companies into North America. We canvass a large number of them on the ground, and most of our contacts are with American-based executives.
We also attend major international events that attract many Asian companies and start-ups. In June, for example, our team took part in Collision, one of the largest international technology conferences, held annually in Toronto.
I had the opportunity to meet a number of delegations from Hong Kong, Taiwan, Japan and South Korea, as well as Asian companies based in Toronto that have the potential to expand elsewhere in Canada.
The bottom line is that there will be more and more opportunities to be seized in Asia. Just look at Canada's Indo-Pacific Strategy. Launched in 2022, it aims to deepen the country's involvement in that region of the globe. In particular, the federal government wants to increase trade and investment, and strengthen supply chains to support Canada's economic prosperity.
In that context, our mission is to raise our metropolitan region's profile among businesses in that part of the world.
---
The MI team: An asset to Greater Montréal
Reporting to Mark Maclean, Senior Director, Americas and Asia-Pacific, within the Foreign Investment Division, the Asia team puts its expertise to work to attract FDI from this highly strategic region for Greater Montréal's economy, as well as to support subsidiaries of Asian companies wishing to invest or reinvest in our metropolitan region. The team is made up of Yun Li, Director, Business Development, François Laplante, Project Manager, and Hongil Kim, Consultant.
To learn more about our services, click here.