Our economic analysis of real estate markets
October 19, 2021
Montréal's real estate markets are reacting vigorously in an uncertain context created by the pandemic. Flexibility is a growing trend for both businesses and office landlords. What is the optimal solution in this environment where the workplace is put into perspective?
Each quarter, the Alfid Group, specializing in property management, offers a detailed report, supported by macro and micro economic indicators to help you see clearly on the property markets.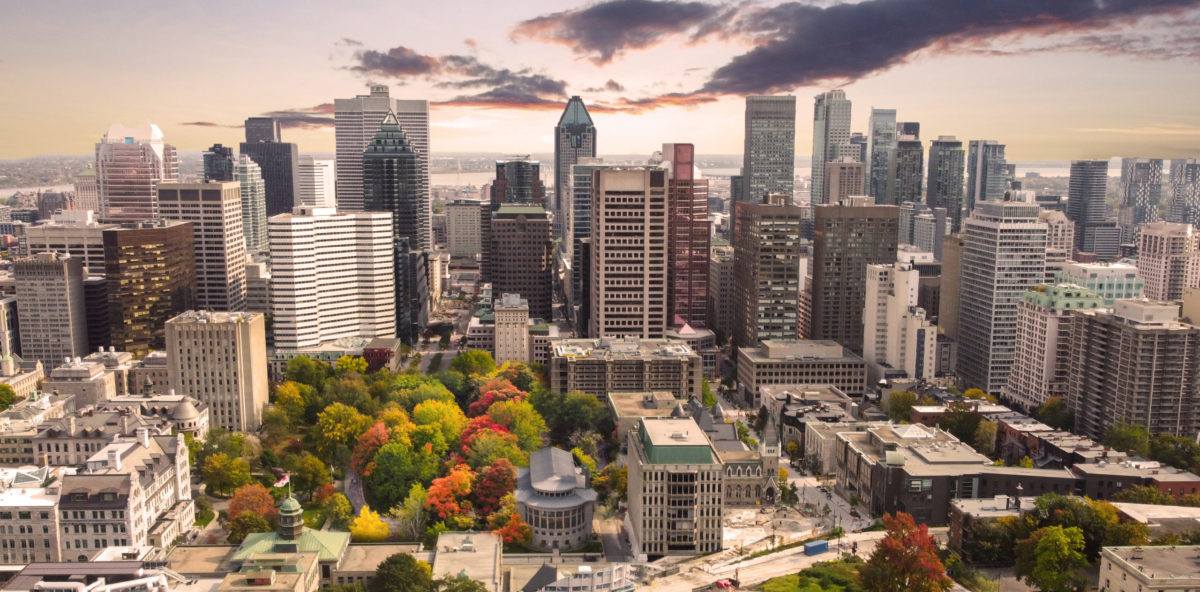 Economic overview: contrasting figures
Sharp declines in home resale activity and exports pushed real gross domestic product (GDP) down 0.3% in the second quarter of 2021. The decrease contrasts with the previous three consecutive quarterly increases (9.1%, 2.2, % and 1.4%), which followed a sharp decline (-11.3%) caused by business closures and travel restrictions linked to the COVID-19 pandemic in the second quarter of 2020.
After advancing 3.1% in June 2021, the Consumer Price Index (CPI) rose 3.1% year over year in June. The price increase is mainly driven by a build-up of recent price pressures and lower price levels recorded in 2020.
The Bank of Canada has announced that it is keeping the target for the overnight rate at its minimum ¼%. The Bank continues to provide exceptional forward-looking guidance on the path of the overnight rate, to which its quantitative easing program adds and strengthens it.
Employment increased by 231,000 (+ 1.2%) in June, following a cumulative decline of 275,000 in the previous two months.
Consumer expectations for spending growth remain near their peak, possibly due to pent-up demand stemming from health restrictions.
Tenants preparing for a return to the office
The pace of office vacancy slowed in all major Canadian cities in the second quarter.
As office tenants mostly prepare to re-welcome employees in the second half of 2021, visits and discussions for lease renewals are getting better.
In Montréal, many landlords are keen to maintain their base rents at all costs, despite the increase in the vacancy rate, offering more options to tenants looking for office space.
Residential real estate: Montréal awaits international students
The vacation rate continued to rise on the Island of Montréal and Québec City.
The Corporation of Real Estate Owners of Québec (CORPIQ) surveyed 1,538 owners of rental properties who hold some 40,000 apartments, from May 27 to June 11. According to this survey, 5.6% of homes are now vacant on the island of Montréal, while 4% will be vacated by their tenants at the end of the month without the lease having been renewed.
Perspectives:
Companies are currently considering an optimal solution regarding the return to the office and the possible use of a workplace. After 16 months of teleworking, companies are aiming to optimize the models they offer by combining office work and teleworking, with renewed attention to work-life balance. While everyone is looking for the perfect formula, it is essential to understand that the solution is not universal.
You would like to receive the full report of our quarterly analysis, write to us: jchareyron@alfid.com
---
The company in brief: The Alfid Group supports its private and public partners with its personalized investment services and 360 property management. The Alfid Group offers a wide range of management services for office buildings, residential buildings multiple, commercial and industrial surfaces ranging from purchase to sale, including security and maintenance. The Alfid Group also carries out brokerage activities and advises its clients on the most appropriate investment formulas. With 390 employees, the Alfid Group is well equipped to deal with a wide variety of management and real estate matters. Alfid currently manages several thousand apartments in Montréal and its suburbs, as well as nearly 4,000,000 square feet of office, commercial and industrial premises.