Amazon HQ2 : Greater Montréal has officially submitted its bid
Montréal, October 20, 2017 – Hubert Bolduc, President and CEO of Montréal International, personally delivered Greater Montréal's bid for Amazon's second North American headquarters yesterday in Seattle. (#Amazon HQ2 / #HQ2MTL).
Tasked by the Communauté métropolitaine de Montréal (CMM) and supported by the Government of Québec, Montréal International presented a distinct and ambitious proposal to the global e-commerce giant.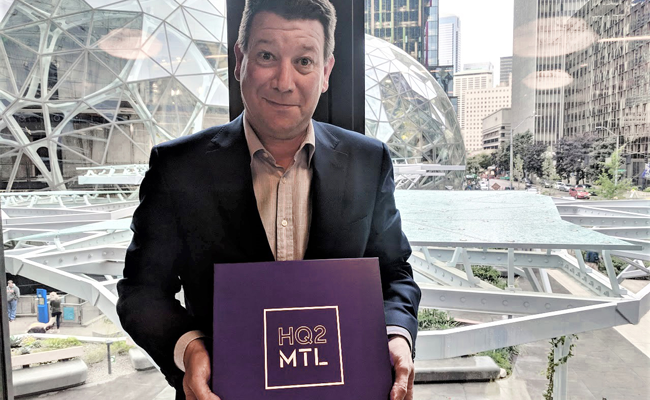 Amazon could invest over $5 billion in the construction of its new headquarters and hire up to 50,000 new employees.
"The whole team stepped up its efforts in the past few weeks to highlight all the know-how and creativity Greater Montréal has to offer. The city is one of the most tech-forward in the world and that is attractive to Amazon, one of the most innovative companies in the 21st century," said Hubert Bolduc, President and CEO of Montréal International. "It would be a winning alliance perfectly aligned with the city's ambition as it has experienced a phenomenal 23% growth among ICT workers in the past five years."
"Québec's business environment is conducive to thriving innovation in leading-edge industries, such as the digital and AI sectors, making Montréal a prime home base for a player of Amazon's magnitude. Québec is the first Canadian province to soon adopt a digital strategy, and this will push Québec's digital expertise and know-how even further," highlighted Dominique Anglade, Deputy Premier, Minister of Economy, Science and Innovation, and Minister responsible for the Digital Strategy.
"Our city has considerable assets playing in its favour for Amazon to set up its headquarters here. Montréal has created an ecosystem of expertise and innovation, with its pool of creative talent, making it one of the world's most competitive digital hubs. The arrival of this global e-commerce giant will strengthen its position and the whole province of Québec will get to reap the benefits," stated Martin Coiteux, Minister of Municipal Affairs and Land Occupancy, Minister of Public Security, and Minister responsible for the Montréal region.
"Montréal is undeniably one of the world's leading cities and it definitely has what it takes to attract such an investment. We've got urban land with development potential, a pool of skilled talent supported by a vibrant, high-achieving academic community, an innovation district and a thriving ecosystem, cultural and linguistic diversity, great quality of life and a safe environment, not to mention that European feel that no other American city has. That's what we have to offer and you can't find that anywhere else. What's more, Montréal's bid enjoys the support of the business community and all three levels of government, making the city a serious contender in the process," said Montréal Mayor Denis Coderre.
A few highlights in the Montréal bid:
• A deep and growing pool of relevant talent fueled by a world-class education system (Montréal accounts for the highest number of students in Canada (320,000), spread within 11 university institutions and more than 60 colleges);
• Canada's world class technology hub (Montréal has the highest concentration of tech sector jobs in any Canadian city and reached the international Top 5 of leading cities in video games, visual effects, artificial intelligence and aerospace);
• Economic and political stability, including an open and efficient immigration system (As a collaboration between the Government of Quebec and the Government of Canada, the Québec component of Canada's Global Skills Strategy helps innovative companies get workers faster by offering a two-week processing time for work permit);
• A 20% to 25% cost advantage compared to similar cities (thanks to affordable wages, attractive corporate effective tax rate, and low, stable energy costs);
• A high purchasing power and exceptional quality of life (Montréal offers young professionals housing that costs 25% less than in Toronto and 86% less than in Boston).
About Montréal International (www.montrealinternational.com)
Established in 1996, Montréal International is a non-profit organization funded by the private sector, the governments of Canada and Québec, the Communauté métropolitaine de Montréal and the City of Montréal. Its mission is to attract foreign investment, international organizations and skilled talent to Greater Montréal by providing assistance services tailored to their needs.
Contact:
Céline Clément
Director, Marketing Communications
514-987-9317
celine.clement@mtlintl.com