Aviation innovator Dufour Aerospace establishes footprint in Montréal
April 6, 2022
April 6, 2022. Zürich and Montréal. Dufour Aerospace, an innovative Swiss eVTOL company, is establishing a base of operations in Montréal, Québec, Canada. The company is developing the next generation of eVTOL aircraft, based on the tilt-wing principle.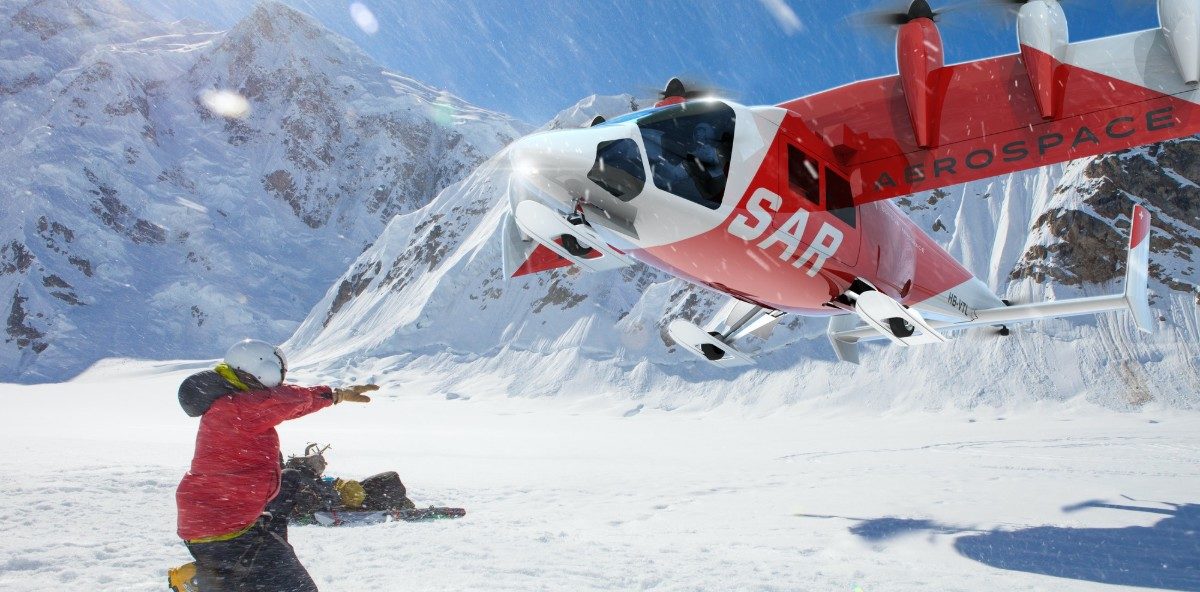 "Canada and Montréal have such a historic pedigree in both aviation and software engineering. It is a natural choice for Dufour Aerospace which seeks to collaborate with the local ecosystem to grow its local operations," said Thomas Pfammatter, CEO of Dufour Aerospace, himself a long-time air ambulance pilot and business executive. "We were initially inspired by the Canadair Dynavert (CL-84), where Canadian engineers established both the aerodynamic principles of tilt-wing flight and built prototypes with hundreds of hours of flight time," he added.
Dufour Aerospace will initially hire software engineers focused on developing systems for its innovative Aero2 and Aero3 eVTOL aircraft. Each design features a tilt wing that combines the best of helicopters and airplanes: vertical take-off and landing on even the smallest spots and energy-efficient longer-range flight at high speeds. The Aero2 is designed for unmanned, remotely piloted operations. The Aero3 is a manned, 8-seat aircraft designed specifically for air ambulance and HEMS operations. Flight testing of the Aero2 has begun in Zurich, Switzerland.
"Montréal boasts high-quality universities and a strong community of software engineers. Furthermore, Canada is the second-largest global helicopter market," said Jasmine Kent, CTO of Dufour Aerospace. "With a strong background in advanced software engineering, the local talent community is well qualified to help us build tomorrow's fleet of air ambulance," she added.
"With more than one out of sixty workers employed in the local aerospace industry, Greater Montréal is a unique location to develop tomorrow's air ambulance. Dufour is inspired by the Canadair Dynavert, an aircraft developed in the 1960s by a Montréal-based pioneer. This new project is not only a testament to our city's legacy to the aviation industry worldwide, but also to our growing IT ecosystem which is essential for its advancement. We will proudly support Dufour in this project and its future endeavours in the region," said Stéphane Paquet, President and CEO of Montréal International.
Talented software engineers can visit the Dufour Aerospace website for details on immediately available job opportunities.
---
About Dufour Aerospace
Dufour Aerospace develops efficient and ecological aircraft for patient and passenger transport, logistics and public safety. Dufour Aerospace relies on the tilt-wing principle: the tilt-wing aircraft Aero3, which is currently under development, takes off and lands vertically in the smallest space like a helicopter, but flies as fast and economically as an airplane. While the propellers are electrically driven, hybrid elements (conventional turbine or fuel cells) ensure a sufficiently long range (hybrid propulsion). In addition to the Aero3, Dufour Aerospace is also developing the Aero2, an unmanned aerial vehicle (remotely piloted) that is also based on the tilt-wing principle.