Disney Animation project to be produced by Cinesite in Montréal
September 9, 2021
Animation studio Cinesite has been tapped to create animated content for the Walt Disney Animation Studios' Iwájú series. Some 100 artists, technicians and other support staff will be hired in the city in the coming months for this unique project, which will be run in collaboration with the London studio.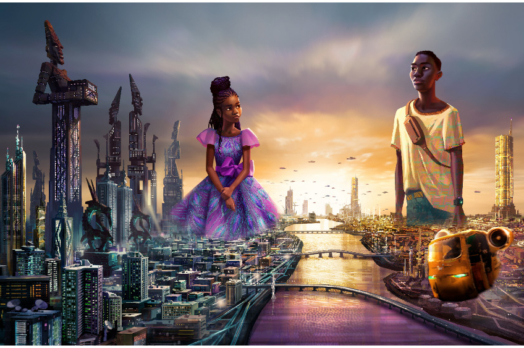 Iwájú, an animated series that takes place in futuristic Lagos, Nigeria, explores inequality, innocence and challenging the status quo. The production will be a collaboration with African studio Kugali, which focuses on telling stories inspired by African culture through fiction, including comic books.
"To work with the best in animation with Walt Disney Animation Studios and fresh, new voices with the exciting storytellers of Kugali is truly a first-of-its-kind not just for Cinesite, but for all of us. The Cinesite teams have worked hard to continually raise the quality bar, and working with Disney Animation is testament to everyone's efforts. We're looking forward to showcasing our crew's innovation and creativity to Disney", said Eamonn Butler, Head of Animation at Cinesite.
This major project reinforces Montréal's position as a global animation and VFX hub. The local ecosystem comprises 35 animation and VFX studios, plus 6,250 specialized workers who have contributed to world-famous projects such as Hitpig, Game of Thrones and Stranger Things (Season 3).
From 2014 to 2019, earnings have increased fivefold for VFX and animation studios, from $139 million in 2014 to $622 million in 2019.
Iwájú will start streaming on the Disney+ platform in 2023.
About Cinesite
Established in 1991, Cinesite is one of the world's most highly respected independent digital entertainment studios, producing award-winning animation and visual effects for film, broadcast and streaming media platforms. Alongside global VFX services, its feature animation business works with IP creators and filmmakers to create high-end animated features, based out of Cinesite's London, Montreal and Vancouver facilities. Cinesite continues to forge new partnerships and collaborations with leading studios and filmmakers to deliver stories that resonate with a global audience. Cinesite is headquartered in London with studios in Montreal and Vancouver alongside group VFX brands Image Engine and TRIXTER. For more information, visit Cinesite.com.