IATA confirms its commitment to Montréal
June 13, 2022
The International Air Transport Association (IATA) and Montréal International (MI) recently signed the official agreement that consolidates the organization's operations in Montréal. IATA will keep its head office and pursue its mission in Montréal until 2032 while supporting 250 high-quality jobs in fields including civil aviation, law, finance, and IT.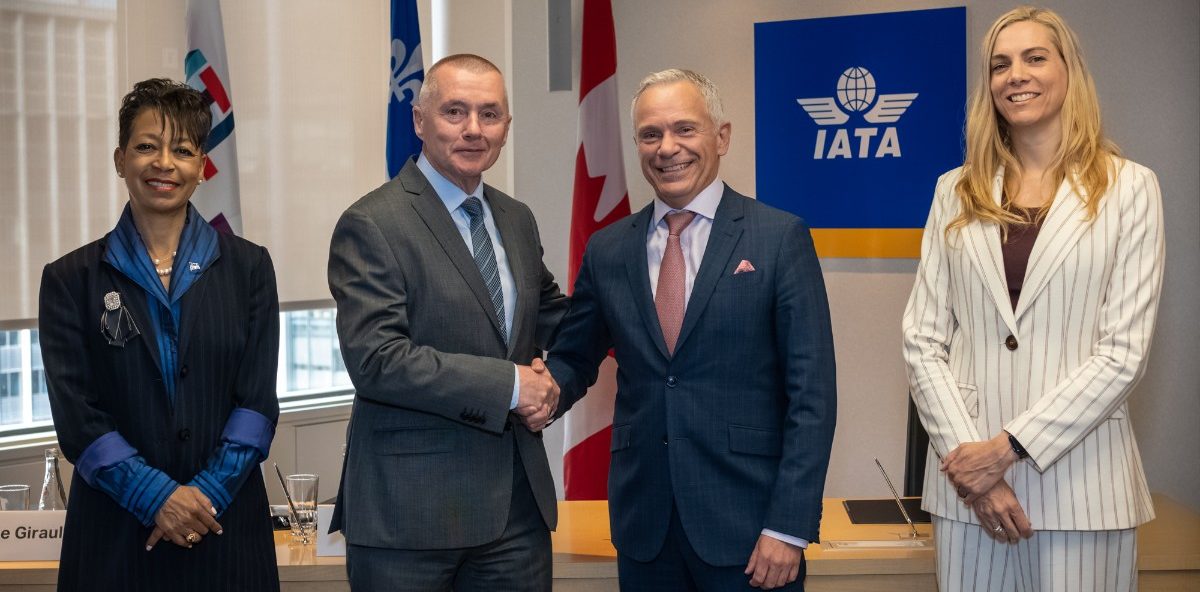 The agreement comes as IATA is set to receive $10 million in funding from Canada Economic Development for Québec Regions and another $10 million from the Ministère des Relations internationales et de la Francophonie. The funds will be administered by Montréal International.
Established in Montréal since its founding in 1945, IATA works to promote safe, reliable, and regular air travel for the benefit of all, in addition to supporting air cargo transport and looking at issues associated with it. The organization is also responsible for providing means of collaboration among airlines, while cooperating with the International Civil Aviation Organization (ICAO) and other international organizations.
Montréal, world capital of civil aviation
IATA is a major player within Montréal's ecosystem of civil aviation international organizations, which includes ICAO, Airports Council International (ACI), the International Federation of Air Traffic Controllers' Associations (IFATCA), and the International Federation of Airline Pilots' Associations (IFALPA). Today, more than a dozen international organizations manage their global day-to-day operations through their Montréal offices, thriving in an ecosystem that is unlike any other in the world and cementing the city's reputation as a centre of aviation knowledge and expertise.
The agreement was signed at the IATA office on June 13, 2022, with Pascale St-Onge, Minister responsible for the Economic Development Agency of Canada for the Regions of Québec; Nadine Girault, Minister of International Relations and La Francophonie; Willie Walsh, Director General, IATA; and Stéphane Paquet, President and CEO of Montréal International in attendance.
"Montréal International, a partner to CED since it was founded over 25 years ago, is demonstrating once again the scope of its expertise and its relevance to the metropolis's economic development. Through its excellent work and the excellent work of many major stakeholders, we can today proudly state once again that the Canadian aerospace sector continues to have its nerve centre in Quebec. Our government is delighted to help maintain this leadership position and thanks the IATA for contributing to this effort to position Quebec's metropolis and Canada favourably on the international scene."
The Honourable Pascale St-Onge,
Member of Parliament for Brome–Missisquoi, Minister of Sport and Minister responsible for CED
"The Gouvernement of Quebec is making significant efforts to facilitate the establishment, integration and retention of international organizations such as IATA. In addition to contributing to the international reputation of Montreal city and Quebec, the presence of these organizations generates significant economic benefits for Québec. Civil aviation is a key and priority sector of Quebec's ecosystem of international organizations. I am therefore very proud that this 10-year agreement will consolidate IATA's presence in Montréal until 2032."
Nadine Girault,
Minister of International Relations and La Francophonie and responsible for the Laurentides Region
"The support of the Government of Canada and the Gouvernment du Québec, together with Montréal International, for IATA will help us to keep a highly skilled workforce in Montréal. For over 75 years Montréal has been our headquarters. We look forward to continuing to represent and serve the needs of our 290 member airlines while interacting with the many other international civil aviation organizations that all call Montreal their home."
Willie Walsh,
Director General, IATA
"The International Air Transport Association (IATA) is one of the pioneers of our city's ecosystem in international civil aviation organizations. There are a dozen or so of them that make Montréal a hub of knowledge and expertise in the aviation industry. With this agreement, IATA is continuing its collaboration with the players in the field who are enhancing this sector that is crucial to the global economy. We are proud to accompany IATA and the 70 other international organizations that make the city shine around the world with their common goal of moving the world forward."
Stéphane Paquet,
President and CEO, Montréal International
About IATA
Founded in Havana in 1945, the International Air Transport Association (IATA) held its first Annual General Meeting in Montréal in October the same year and was incorporated under a special Act of the Canadian Parliament two months later. Over the past seven decades, IATA has grown to nearly 290 members from 120 countries across the globe. Based in Montréal, IATA operates offices in Geneva, Amman, Beijing, Madrid, Miami, and Singapore and has a significant presence in Brussels, Moscow, Johannesburg, and Washington, D.C. Click here for more information.