Mitsubishi Aircraft Corporation lands in Greater Montréal
The company opens a new center of excellence in Boisbriand
September 19, 2019
Mitsubishi Aircraft Corporation made a major announcement today for Greater Montréal's aerospace industry: it unveiled its new center of excellence, the Spacejet Montréal Center. The company wants to capitalize on the pool of skilled talent and the Québec expertise in R&D by investing up to $135 million and creating up to 250 new jobs. Greater Montréal is universally recognized as a global aerospace hub: it accounts for 50% of Canada's aerospace activities. The arrival of Mitsubishi Aircraft Corporation will further strengthen Montréal's aerospace cluster, and create a new business relationship with Japan.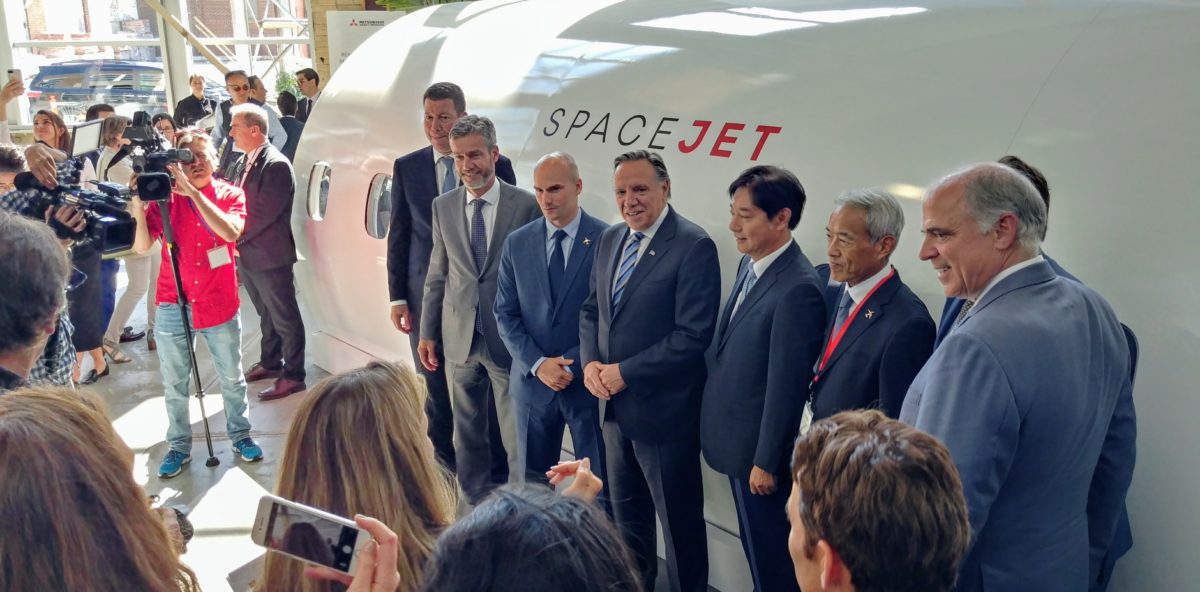 More and more Japanese companies are investing here
In the last couple of years, Japanese companies have been increasingly investing in Greater Montréal. Over eighty Japanese subsidiaries, from diverse sectors, have already chosen to set up here. Just recently, another Japanese giant, Denso, announced the creation of an innovation lab in Montréal. The booming AI sector was a decisive factor for Denso executives.
There are many examples of business ties between Montréal and Japan. Just consider video game designer Square Enix that has set up two studios in Montréal. Eidos-Montréal and Square Enix Montréal employ over 700 people and more hirings should follow throughout the year.
Even on a smaller scale, there are good opportunities for expansion. IT outsourcing company Pole to Win is another fine example. When it came to the city a year ago, the Montréal team only had 10 employees. Now there are 50 employees!
The video game designer CyberConnect2 has also experienced impressive growth since it arrived in Montréal in May 2017. The company expects to release a game that the Montréal team helped develop in the coming months.
The newcomers are not the only one to have success stories. Japanese zipper manufacturer YKK celebrated 50 years in Canada last year. In 1968, the company set up in Montréal with 10 employees. Thanks to its customer service and the quality of its products, YKK was able to quickly expand. Now the company has a coast-to-coast presence with 120 employees.
And that's not even counting several other major Japanese companies in Greater Montréal, such as Fujitsu, Hitachi, Panasonic or Sony.
What attracts Japanese companies to Greater Montréal?
A highly skilled and qualified workforce
The city's vibrant economy – it had the best economic growth in Canada in 2018
An ecosystem that favours the creation of startups
Operating costs that make Montréal quite competitive
Montréal's status as a student city with 11 universities and high-quality education programs
The cultural diversity of Montréal (140 languages spoken)
Bonds stronger than ever
This year marks the 90th anniversary of diplomatic relations between Canada and Japan. Many events have been organized to celebrate these nine decades of collaboration between the two countries. In August, Her Imperial Highness Princess Takamado was visiting Canada to mark this milestone.
Everything is fully aligned to favour exchanges with Japan. In June 2018, Air Canada launched a new direct flight between Montréal and Tokyo. This is a major plus for companies in both countries wanting to establish business relations, develop their company or explore different markets.
As such, Consider Canada City Alliance (CCCA), an organization grouping together economic development agencies from several Canadian cities, will be going on a mission to Japan this fall. This will be another opportunity, on both sides, to strengthen business relations and to create new opportunities for Japanese multinationals and entrepreneurs who want to discover Montréal's full potential.