Montréal celebrates its international organizations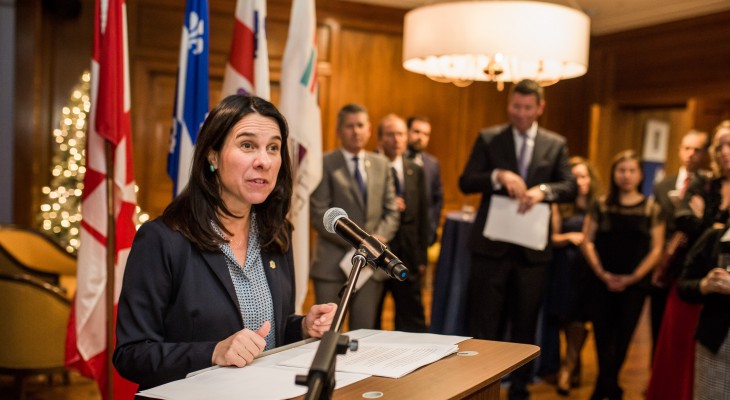 Montréal's newly elected mayor, Valérie Plante, joined Hubert Bolduc, President and CEO of Montréal International, in celebrating the city's international organizations at an annual reception held in their honour on November 22.
Ms. Plante used the occasion to thank international organizations and acknowledge their valuable contribution to the city's economic growth. "I am thrilled to see that international organizations are drawn to Montréal. They all have extensive business networks abroad, and they can leverage those networks to raise the city's international profile and attract skilled talent," said Ms. Plante.
Now in its ninth year, the event was hosted by RBC Royal Bank and brought together close to 120 attendees, including representatives of government, the private sector and international organizations, who took the opportunity to connect and look back on major projects announced over the past year.
Montréal International completed four ambitious projects in 2017, including AIESEC locating its international secretariat in Montréal, the International Union for Health Promotion and Education (IUHPE) establishing its international secretariat in the city, the International Air Transport Association (IATA) expanding its operations, and the World Anti-Doping Agency keeping its main office in Montréal until 2031.
The Mayor acknowledged Montréal International's contribution to the projects and its key role in enhancing the city's global reach and reputation. "Montréal International has done a great job boosting Montréal's credentials and attracting talent and job-creating businesses in industries with growth potential. My team and my administration will be happy to support you in your mission," said Ms. Plante.
Montréal boasts the highest number of international organizations in North America, after Washington, D.C., and New York City. The 65 international organizations that call Montréal home employ 3,000 people and generate close to $300 million annually for Québec's economy. Montréal International oversees a dedicated program designed to attract international organizations and help them settle and expand in the city, and has developed considerable expertise in the field since the program launched in 1996.