Montréal International in charge of Greater Montréal's bid for Amazon's second headquarters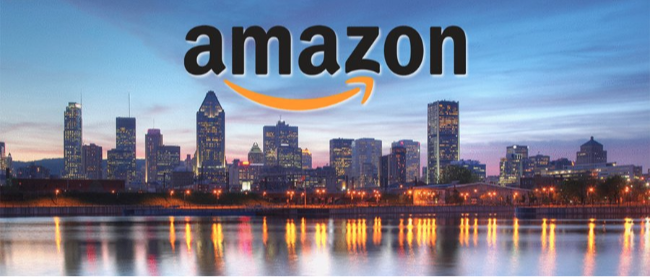 Montréal, September 15, 2017 – Montréal International has been tasked by the Communauté métropolitaine de Montréal (CMM) with leading the charge to convince Amazon to build its second North American headquarters in Greater Montréal. Montréal International is also pleased to announce that the Government of Québec has pledged its support to help put forward a comprehensive proposal. The online retail giant could spend more than $5 billion to build a new 8-million-sq. ft. site that will employ up to 50,000 people.
"Greater Montréal has been receiving unprecedented global attention, and we will do everything we can to build on this tremendous momentum," said Hubert Bolduc, President and CEO of Montréal International. "Our team has been working hard with our partners for a week now to pitch the city's expertise, creativity and know-how to Amazon."
"I encourage the entire Montréal International team to show everyone what today's Greater Montréal—an innovative city at the forefront of technology—has to offer," said Denis Coderre, Mayor of Montréal and Chair of CMM. "A large-scale project like Amazon's would put Montréal on a par with other leading high-tech cities and would revolutionize the city's economic landscape to the benefit of its residents," he added.
"Convincing Amazon to build its second North American headquarters in Montréal could result in investments worth billions of U.S. dollars and thousands of high-paying jobs. Such a project would provide a real boost to Québec's economy. The province has everything it takes to attract such a major investment: a stable business environment, a strong academic network that fosters cooperation, and highly skilled, creative talent whose genius is the envy of all," said Dominique Anglade, Minister of Economy, Science and Innovation, and Minister responsible for the Digital Strategy.
"Greater Montréal is an outward-looking city that has plenty of tech talent. By choosing Montréal for its second North American headquarters, Amazon could take advantage of Québec's know-how, competitive environment, and internationally recognized expertise," added Martin Coiteux, Minister of Municipal Affairs and Land Occupancy, Minister of Public Security and Minister responsible for the Montréal region.
In Greater Montréal, foreign-owned subsidiaries make up only 1% of businesses, but they account for 10% of jobs and 20% of the region's GDP. "Foreign investment is a key driver of economic growth. With all the talent, resources and technology that they bring from all over the world, foreign companies transform the economies of the cities that welcome them," added Mr. Bolduc.
Click here to watch the Montréal World-Class Tech Hub video: