Measures to increase the international influence of Greater Montréal
Economic development action plans
Montréal International supports the City of Montréal to enhance the city's profile among international investors and workers
Montréal International, Greater Montréal's economic development agency, supports the action plans announced today by the City of Montréal and the new measures to boost efforts in promoting opportunities to international investors and workers, by creating a brand image.
"Montréal must have a strong, distinctive and unifying image to promote its creativity, expertise and leading-edge industries to foreign investors, international organizations and top talent," said Hubert Bolduc, President and CEO. "Creating a brand image is vital to the region's economic growth and goes in hand with the joint recommendations made by Montréal International and the Chamber of Commerce of Metropolitan Montréal, announced on April 27 at the strategic Montréal: Alive with the international forum."
The City also defines several priorities in its action plans to support the development of its knowledge economy and to increase the availability of skilled workers, by working with partners and higher education institutions.
"The talent pool is one of the main criteria when foreign investors are considering where to invest in. Montréal International is thrilled to be tasked with the City's mission to enhance Montréal's reputation as a knowledge and talent hub, in addition to their supporting our efforts to attract and retain international students. By working together we will position Montréal as a key business centre and help enhance our collective wealth," said Mr. Bolduc.
Have a look at the action plans (French only):
Propulser Montréal – Plan d'action en affaires économiques internationales [4.1Mo-PDF]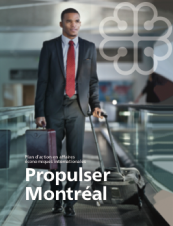 Créer Inventer Montréal – Plan d'action sur le savoir et le talent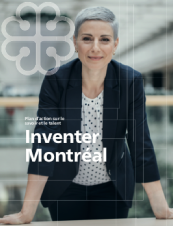 Montréal – Plan d'action en design [3.3 Mo-PDF]