Montréal is the most affordable city in Canada and the U.S.
By Francis Bouchard, Director, Strategy and Economic Affairs
The latest edition of the "Prices and Earnings" study from UBS published in May 2018, confirms once again that Greater Montréal provides an unmatched quality of life for its residents thanks to affordable prices and high incomes, which in turn means a much envied purchasing power.
Montréal ranks 34th in the world for its affordable prices among the 77 cities included in the study. The city is more affordable than most major European cities and the least expensive city in Canada and the U.S. This accounts for quite a significant cost advantage. It means Montréal is 31.4% less expensive than New York City—the benchmark used in the study. It should also be noted that Montréal stands out again for having some of the lowest rental rates in North America.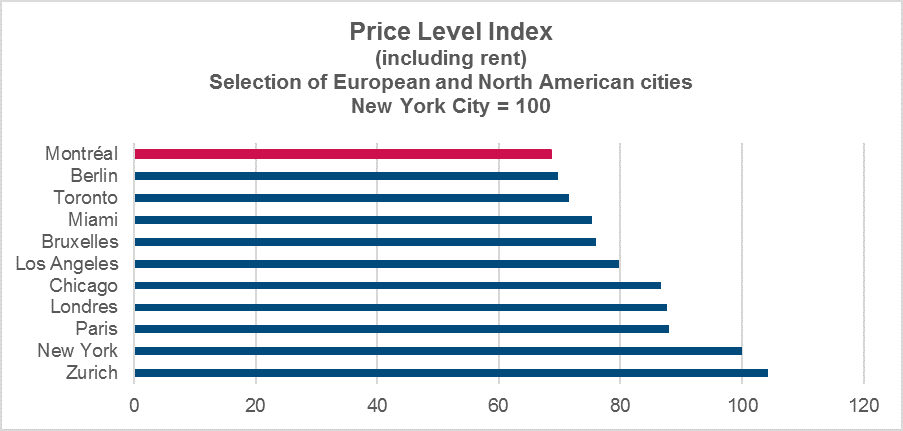 Moreover, Montréal has the 15th highest earning level in the world among the cities in the study.  Montréal ranks fairly well with earnings above that of Tokyo (17th), Berlin (18th), Paris (23rd) and London (24th).
Lastly, Montréal performs very well in terms of purchasing power, at no. 18, ahead of Tokyo (20th), Stockholm (22nd), London (23rd) and Paris (33rd). Note that the purchasing power analysis does not take into account generous Québec family allowances or the cost of rent.
A note about methodology: The 17th edition of the UBS "Prices and Earnings" study, based on more than 75,000 data points on prices and earnings from 77 cities worldwide, including six cities in Canada and the U.S. It compares the price level in a standardized basket (128 goods and services), the salary (reference profile of 15 professions) and the purchasing power of a family of three. Read the full study here: https://www.ubs.com/microsites/prices-earnings/en/