Montréal No. 1 city in the Americas for the value of foreign direct investment
WAVTEQ, a foreign direct investment (FDI) consulting company related to the Financial Times has just published its new study called the City FDI Performance Index. It is based on the principle that cities are the driving force of economic growth and development, so corporate FDI strategies are now very strongly focused on cities. In support of this point, in 2017, 40% of the new FDI projects around the world were concentrated in 100 major cities.
The study shows a performance index for the 50 cities with the highest FDI globally. This index is weighted based on the GDP size of each of the 50 cities. Therefore, an index of 100 means that the city is attracting its fair share of FDI in capital investment, estimated based on its GDP.
 Highlights for Greater Montréal
Ranked 17th globally among the 50 cities that attract the most FDI in 2017 based on capital investment (Capex), up 7 spots compared to the 2016 ranking.
Ranked first among the 10 cities in the Americas, ahead of Toronto, New York City, Sao Paulo, Bogota, Mexico, San Francisco, Los Angeles, Boston and Chicago.
City FDI Performance Index based on capital investment (Capex), 2017, Top 25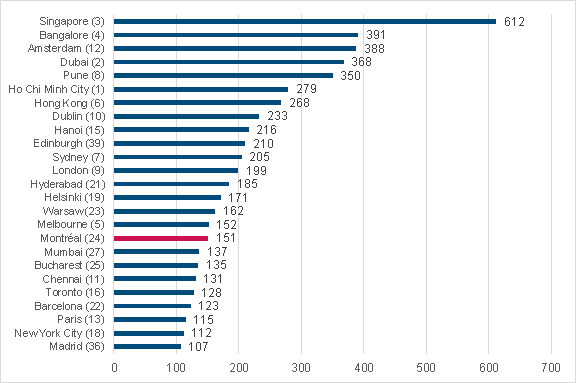 Note: the number in parentheses indicates the city's 2016 ranking.