New success for Greater Montréal's AI
leAD, a Berlin-based sports accelerator established by the grandsons of the founder of the Adidas brand, and Stradigi AI, a leading Canadian artificial intelligence (AI) solutions provider based in Montréal, announced today that they've concluded a long-term partnership agreement.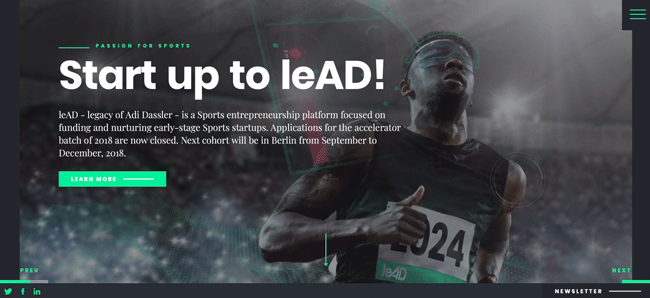 "My grandfather was always at the cutting-edge of technology, developing new ideas to change sports for the better," said Mr. Horst Bente, director and co-founder of the leAD Sports Accelerator. "I'm excited to be bringing Stradigi AI into the fold as our exclusive AI partner, they will play a critical role in continuing the Dassler legacy by advising us on potential opportunities, mentoring our young entrepreneurs and helping startups build out AI solutions as part of their offering," concluded Mr. Bente.
The strategic association will allow Stradigi AI to combine its team, knowledge and expertise in artificial intelligence with the leAD Sports Accelerator in order to deliver state-of-the-art solutions to current and future startups.
"This new collaboration confirms our global footprint and we're thrilled to offer our AI knowledge and the support of our research and solutions teams to the leAD Sports Accelerator," said Basil Bouraropoulos, co-founder and CEO at Stradigi AI. "I am especially passionate about mentoring entrepreneurs at the start of their journey and look forward to offering advice and sharing my knowledge with them," added Mr. Bouraropoulos.
Over the past few years, Montreal has become a leading force in the field of artificial intelligence and it is among the few cities in the world that have a support program specifically designed to help international organizations set up their operations in the area.
« Montréal is currently enjoying a tremendous success with its unique position and reputation in the field of artificial intelligence. This partnership with Stradigi AI, one of our most promising companies, not only further supports this international reach, but also highlights the strengths and successes of a business ecosystem that is firmly focused on entrepreneurship and innovation, « said Hubert Bolduc, President and CEO of Montréal International.
Stradigi AI's research lab is headed by co-founder and Chief Scientific Officer Carolina Bessega, who is also becoming a mentor to the selected startups by offering her expertise in the field of artificial intelligence.
Stradigi AI recently became the very first Québec-based AI solutions provider to partner with the Vector Institute for Artificial Intelligence and concluded a joint venture agreement with Cossette, a leading creative marketing communications agency in Canada.
They plan to expand their operations by opening new offices in both Toronto and Brazil in the coming months.
The announcement of this unique new collaboration will lead up to the Selection Week for the leAD Sports Accelerator program set to begin in Berlin on July 16th 2018.
About Stradigi AI
Stradigi AI is one of the largest artificial intelligence solutions providers in North America, backed by an applied research lab committed to bringing excellence & smarter results to international businesses.
Its passionate research scientists devote their time to identify challenges and provide original and custom AI solutions, that are then built into scalable products thanks to its talented team of software engineers. Together, they provide a full ecosystem catered to AI innovation, giving them and their partners a competitive edge. For more information, visit stradigi.ai.
About Montréal International
Established in 1996, Montréal International is a non-profit organization funded by the private sector, the governments of Canada and Québec, the Communauté métropolitaine de Montréal and the City of Montréal.
Its mandate is to attract and retain foreign investment, international organizations, skilled workers and international students to Greater Montréal by providing support services tailored to their needs.