Tourisme Montréal: actively promoting Montréal for 100 years
October 17, 2019
Greater Montréal is seeing sustained economic growth and growing interest from abroad. Before foreign investors, international talent and international students chose to settle in Montréal, they often discovered the city as tourists.  Portrait of a booming industry.
If Montréal is one of the major urban tourism destinations, Tourisme Montréal plays a key role in the growth of this critical sector of Québec's economy.
Record results
Montréal's tourism industry enjoys a record performance, pushed by the city's economic boom, just in time for Tourisme Montréal's 100th anniversary. Since the 10-million-tourists mark was reached in 2016 for the first time in Montréal's history, there has been continued growth on every level.
11 million tourists in 2018 (up 25% compared to 2013)[1]
$4.5 billion in spending in 2018 (up 71% compared to 2013)
4 million passengers welcomed at the Montréal-Trudeau airport (up 9.5% compared to 2017)
27,061 cruise passengers and crew members (up 11% compared to 2017)
Actions with results
Several factors have had a positive impact on the total number of tourists, such as the addition of new direct flights departing Montréal, sustained promotional efforts and targeted efforts to host more international conferences.[2]
As a result, it's no coincidence that Montréal is ranked first in the Americas for hosting international events for the second year in a row! While certain markets are flourishing, such as China (up 15%) or Mexico (up 9%), international tourism is continuing its momentum with nearly 30% of tourists coming from the United States and overseas. There is a good chance that the 400 international journalists invited to discover the city are no strangers with this success.
Strong renewed identity 
With striking campaigns such as Never Grow Up, Lâchez votre fou, J'ai changé and others, the image of a tourist-friendly Montréal has never been so bold and true to Montréal's fun, energetic and creative DNA.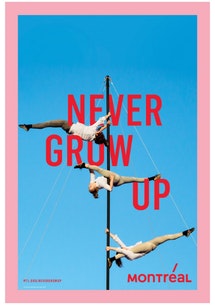 Being a tourist in your own city
And lastly, just because you live in Montréal doesn't mean you can't discover something new about it. Looking for a good restaurant, activities for next weekend, dates of the next festival? The Tourisme Montréal site is a treasure trove of information.
[1]Source (in French only)
[2] Tourisme Montréal Annual Report – 2018