Zimmer CAS is banking on Montréal to develop its medical solutions
November 1, 2022
Under the leadership of Dr. Louis-Philippe Amiot, orthopedic surgeon and engineer, this Montréal subsidiary of U.S.-based Zimmer Biomet develops technological solutions that can enhance the precision of knee, hip and shoulder surgeries. And in doing so, it raises the profile of Montréal's expertise around the world.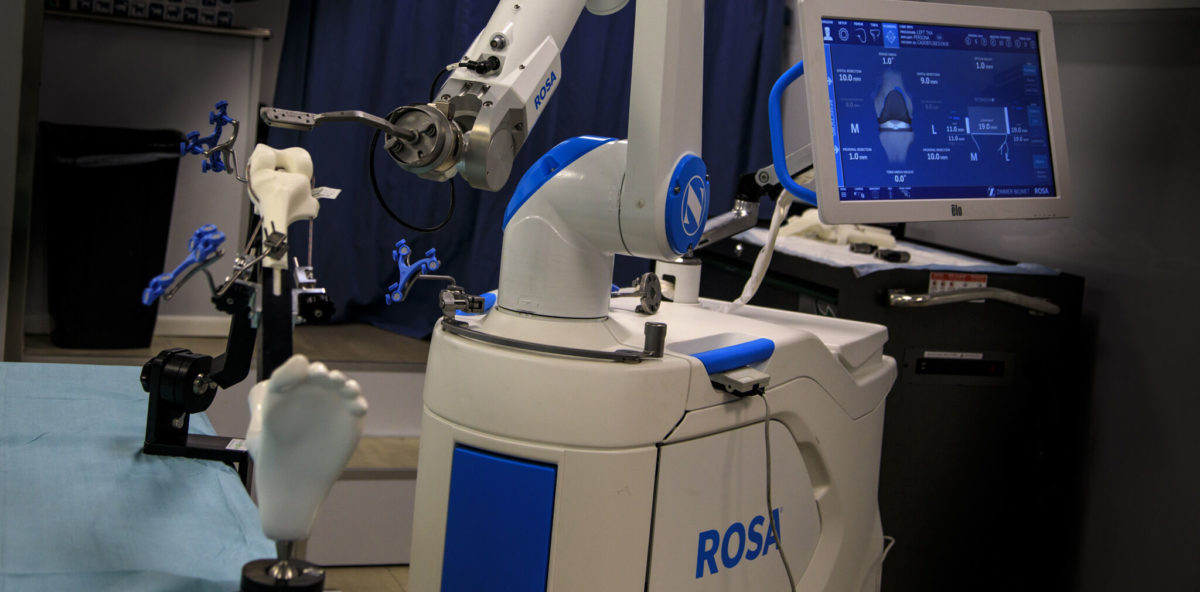 Sold in more than forty countries, the computer-assisted surgical solutions from Zimmer CAS are designed in Montréal, at the largest specialized laboratory of its kind. Some 400 specialists on-site develop cutting-edge software while managing the production and distribution of a large array of devices – surgical instruments, bone cutting guides, etc. These devices, some of which leverage artificial intelligence (AI), extend the lifetime of orthopedic implants, and improve the prognosis of patients by providing an unprecedented level of precision.
The common denominator? Simplicity. From the iASSIST electronic guidance system, designed to help surgeons align bone resections, to robotic surgical assistant ROSA, used to plan and precisely perform knee and hip surgeries, everything was designed to make the job easier for orthopedic surgeons and to optimize the accuracy of their surgeries.
Considering all of its technologies, Zimmer CAS impacts the lives of some 100,000 patients every year and that number is sure to grow. For instance, ROSA was used in over 50,000 surgeries in 2021 compared to only 1,000 surgeries in 2018, particularly in Québec where the Montréal Jewish General Hospital, St. Mary's Hospital Centre and Duval Orthopaedic Clinic have adopted this technology.
Tapping into Montréal's expertise
As Zimmer CAS's success is closely tied to the quality of its workforce, the company actively works with Montréal universities to create synergy that bolsters the training and recruitment of specialists that it needs to continue to innovate.
"Thanks to our strategic location in Greater Montréal, we can count on a highly skilled pool of talent," says Dr. Amiot, VP and General Manager, Zimmer CAS. "This pool is expanding every year due to the quality of the biomedical engineering and computer engineering training Montréal has to offer and the city's dynamic AI and deep learning ecosystem. The expertise developed here is key to our growth."
This culture of maintaining close ties with educational institutions not only helps with the hiring of high-calibre specialists, but also with retaining invaluable expertise in Montréal.
A leader with an atypical background
The technological advances made by Zimmer CAS are largely owing to Dr. Louis-Philippe Amiot. His unusual background was the driving force behind many innovations that shot him to the forefront of research in computer-assisted orthopedic surgery.
In addition to running Zimmer CAS, Dr. Amiot also practises medicine, specializing in spinal reconstruction surgery for cancer patients at Maisonneuve-Rosemont Hospital. As he was trained in both electrical engineering and medicine, very early on in his career Dr. Amiot had been interested in how technology could be used to make orthopedic surgeries easier.
After having worked on a study project that consisted of simplifying the placement of pedicle screws to treat spinal pathologies in children while he was a student, he started the company ORTHOsoft in 1995 to expand his research. ORTHOsoft specialized in the design and production of surgical instruments, custom devices and surgical software.
In 2004, ORTHOsoft went public and in 2007, it joined forces with Zimmer Biomet to boost its international operations. "At that time, we only had some fifty engineers for a single product line that was used for 10 times fewer patients," says Dr. Amiot. "Access to Zimmer's distribution network opened new doors for us."
Fifteen years later, Zimmer CAS is going strong. Its expertise is world renowned and a growing number of orthopedists use the company's technology to improve the lives of their patients.
To learn more about Montréal and its health technology sector, click here.