Behind-the-scenes of bold video promoting Montréal
April 26, 2021
I'm extremely lucky.
I live in a city that I fell in love with the day I set foot in it in 2010. I was immediately charmed by this bee-hive of creativity, this mix of North American and European culture, and especially by the people who make everyday life so pleasant.
And then there are the movies and video games, two of my greatest passions. I knew that "movies" and "games" were produced in Montréal, but I only understood the worldwide impact of our studios while working at Montréal International.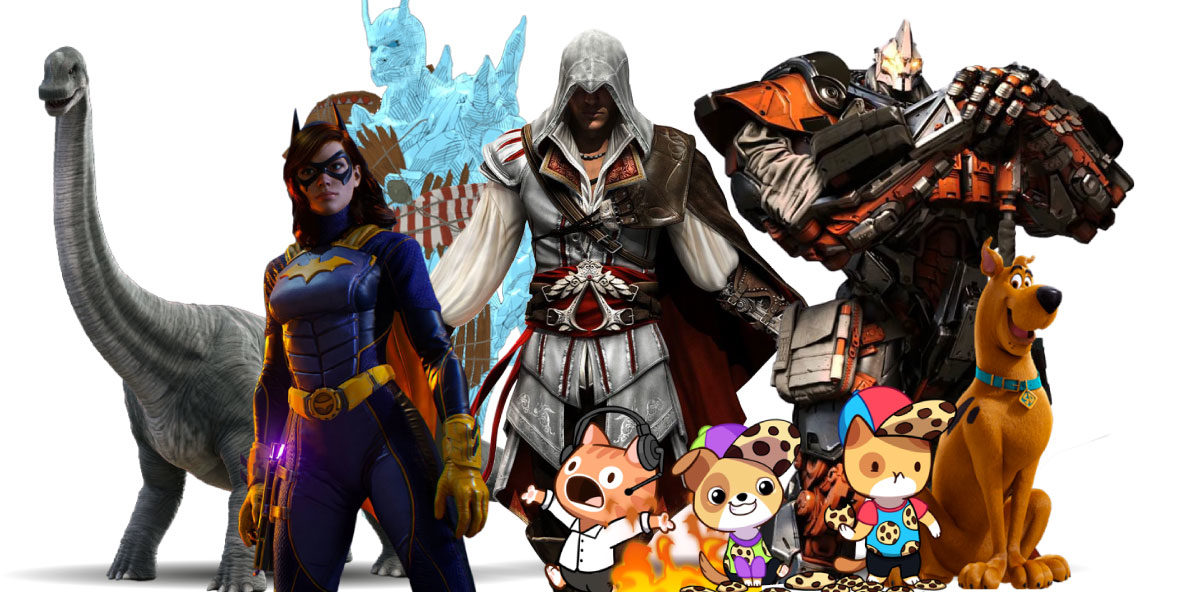 Ubisoft, Tuque Games, B Games Inc., WB Games Montréal, UCS LLC and Amblin, Ludia, Warner Animation Group, Reel FX, Norsfell
It was clear to me that we had to pay tribute to all the anonymous talented people behind these projects, and that the tribute had to be worthy of the level of creativity we would celebrate. In my head, I had already started playing with ideas for certain scenes and placing certain iconic characters in the streets of Montréal. But it was a sizeable challenge. After all, Montréal International is a non-profit organization with a limited budget. What's more, each character, each game, each movie was strictly protected. How do we convince an industry giant like Ubisoft to take Ezio out of Assassin's Creed and bring him to life in Montréal?
Golden opportunity to spotlight Montréal's technological creative expertise
In 2020, a golden opportunity came up when Montréal International had to acquire a new promotional tool to highlight our city's creative wealth to foreign investors, entrepreneurs, skilled workers and students from around the world.
I was entrusted with this highly strategic – and exciting! – project. After submitting a bid, video production company BLVD MTL, which happened to be acquired by visual effects studio Rodeo FX during this time, proved to be the ideal partner to join us in this new adventure and develop a concept that was on par with our expectations.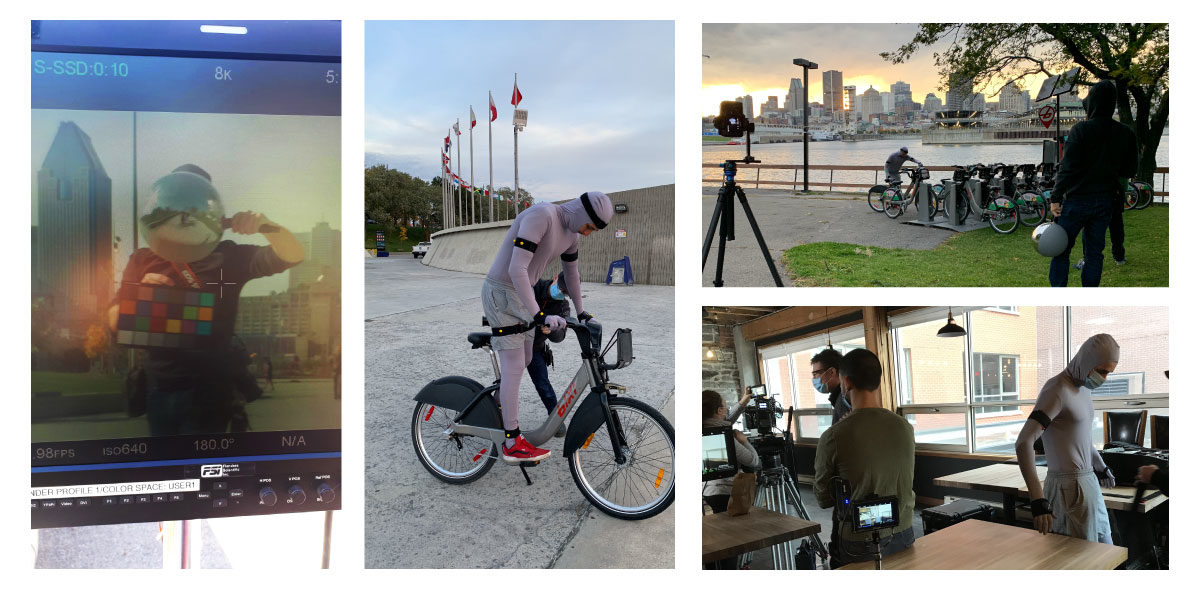 We were immediately convinced of the huge potenatial of the script, which revolves around one of main characters from the Assassin's Creed video game. Filming started. In order to integrate Ezio, Rodeo FX chose to have the various scenes played out by an actor. The actor wore a grey bodysuit to prevent any stray pieces of clothing or hair, which could have complicated post-production. Sensors, or rather position indicators were also stuck onto various body parts to help with the character's subsequent animation. This is an alternative, and less costly, technique to MOCAP.
After two days of filming at iconic Montréal spots like the Olympic Stadium and Crescent Street, it was now a matter of finding the right characters to add into the scenes.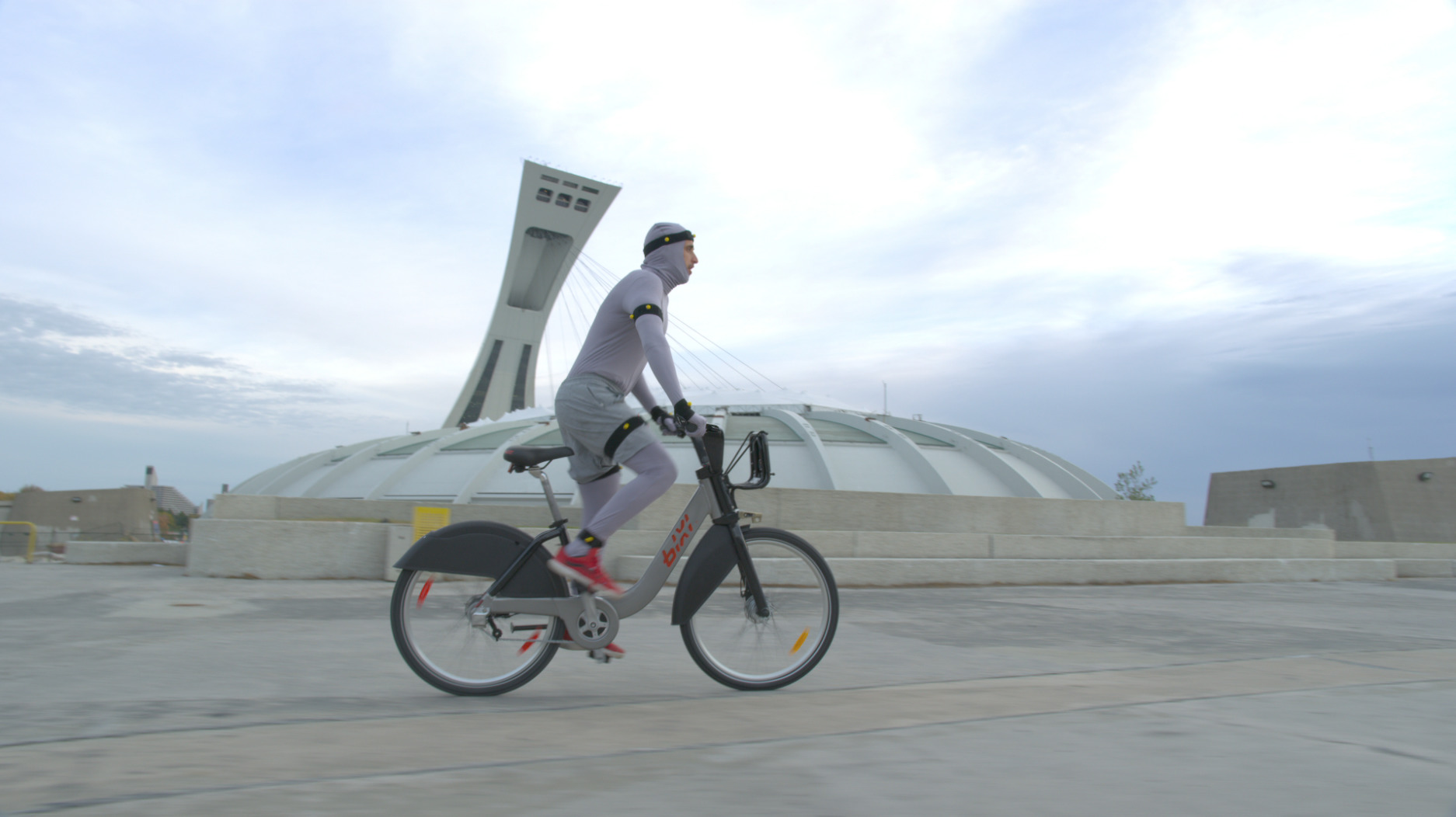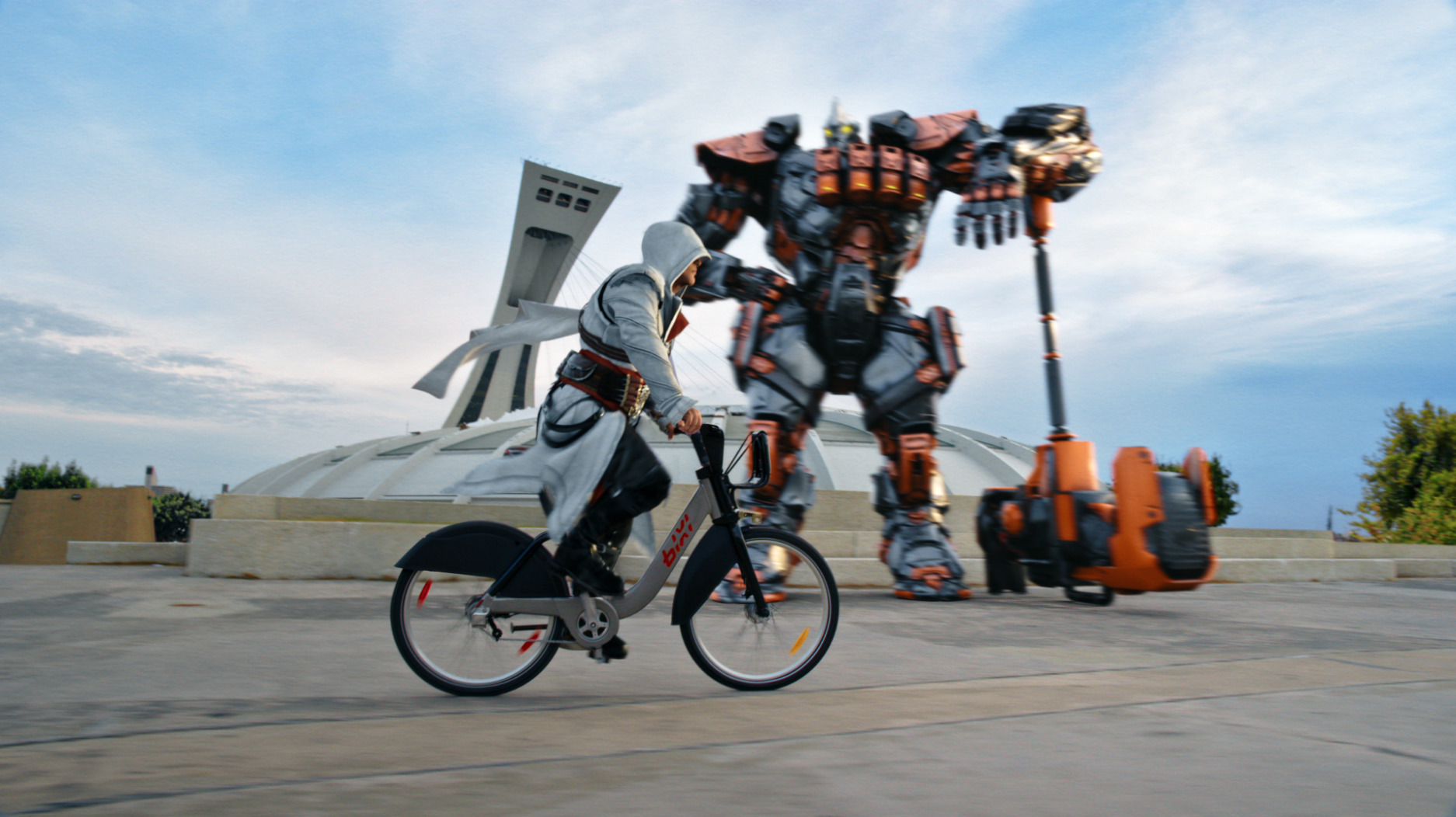 We had to make some tough choices very quickly. Hundreds of characters from video games and movies had been created in Montréal. But we had to limit ourselves to the seven top picks that would naturally blend into scenes we shot, and also be representative of the diversity of the works produced here.
When studios get engaged to celebrate their achievements
The response from Montréal studios was astounding. I witnessed the engagement and collaboration that is so characteristic of Montréal. Some studios were even able to convince major producers of the merits of the project, and ultimately release Batgirl from Gotham so that she could appear at Lafontaine Park. Or take a brachiosaurus from Jurassic Park for an outing on Robert-Bourassa Boulevard.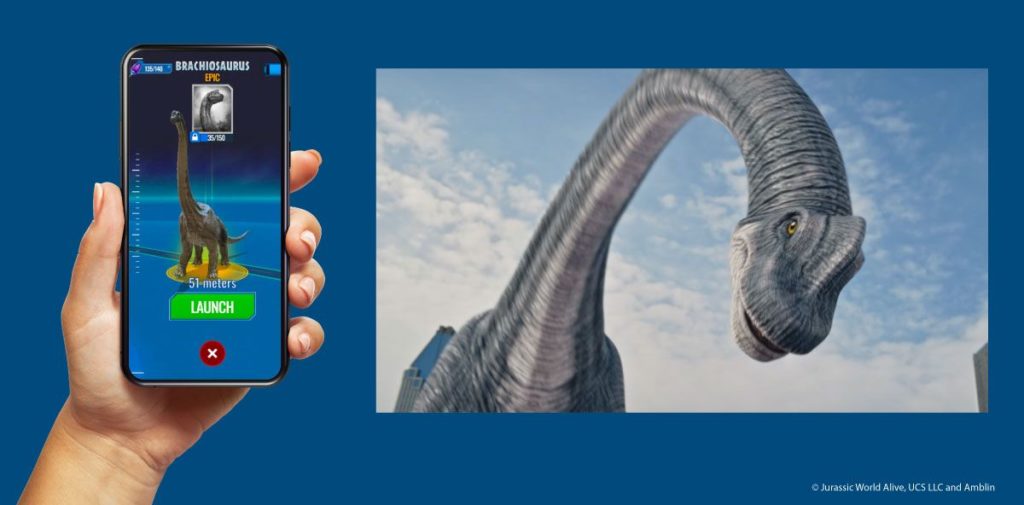 Every character's actions were decided with the studios, except for Ezio, who was fully animated by Rodeo FX to follow our actor's movements (with Ubisoft's consent). The studios gave their time and worked many hours to provide the custom tools.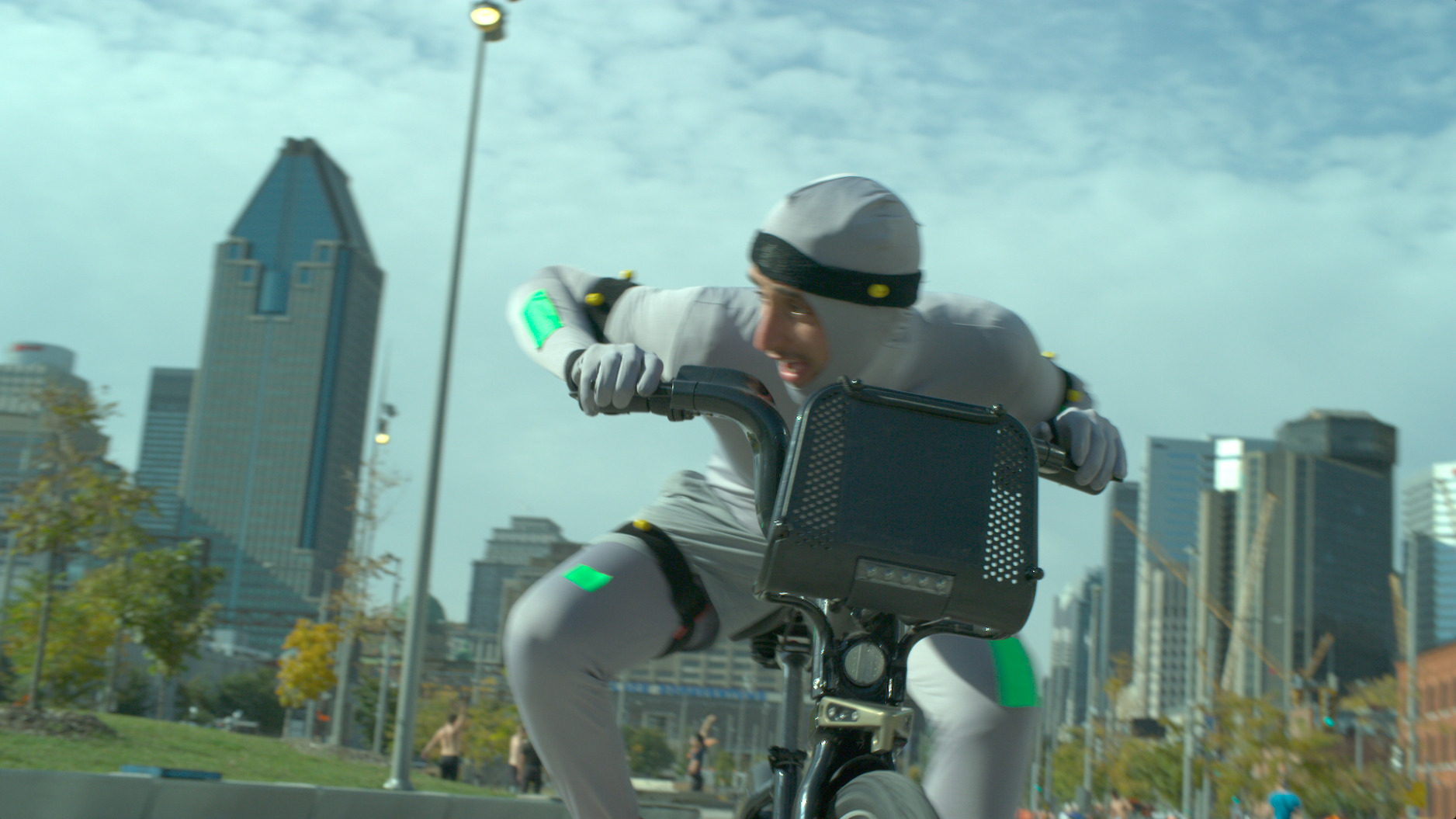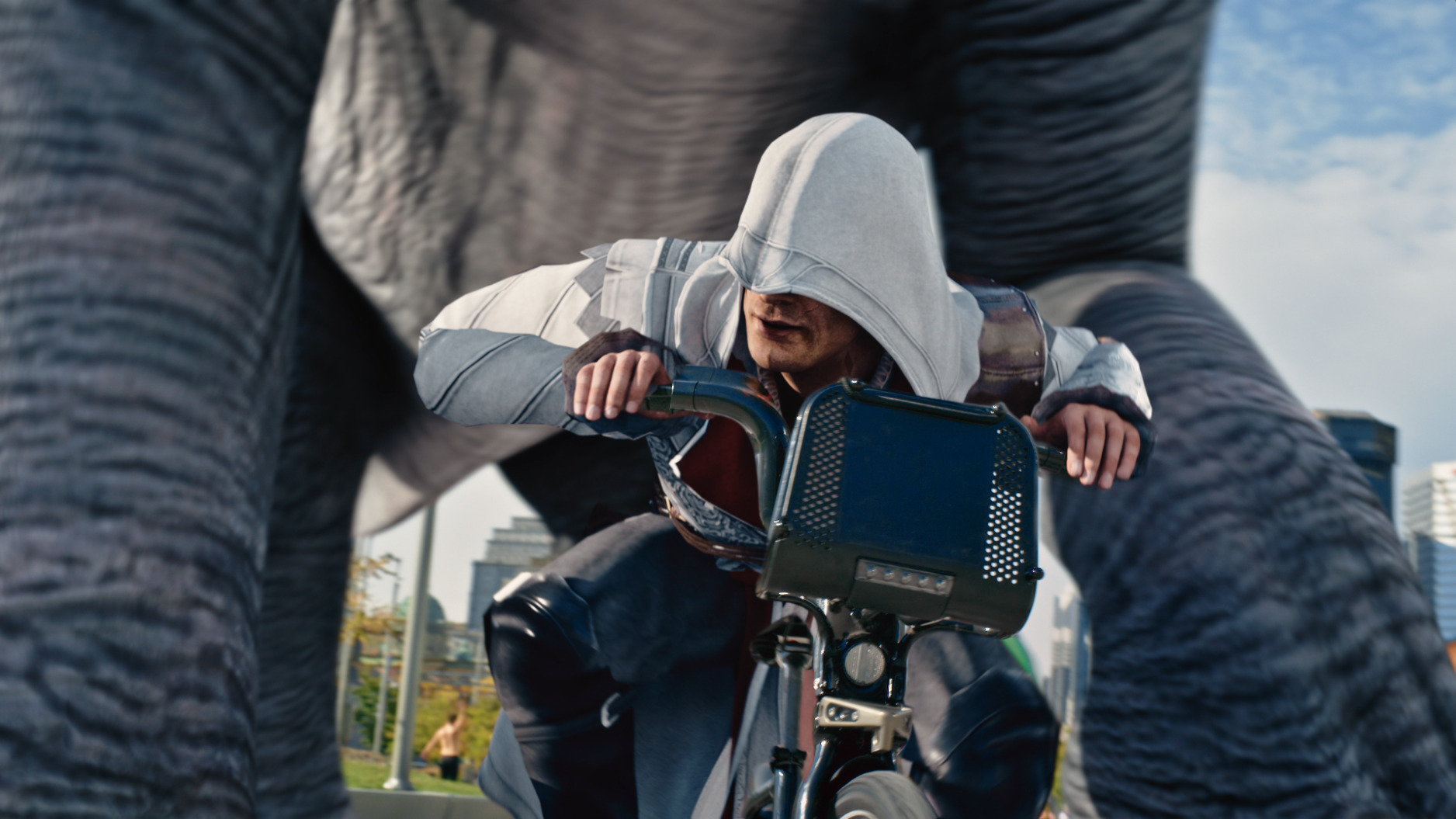 In all, 18 studios contributed to this one-minute celebration. That's a tiny sample when we know that Montréal has over 235 studios in the technological creative industries.
I know I may be repeating myself, but I'm extremely lucky. I had the pleasure of overseeing this wonderful project and to shape it according to my vision. Some twenty people from Montréal International also contributed to the project. I would like to very humbly say that we are a good reflection of Montréal's creative ecosystem: We are collaborative, talented and passionate!
Watch the final result below:
Discover the special page created for this project
For Montréal International, thanks to
Alan Bakli
Alexandre Lagarde
Christian Bernard
Céline Clément
Cyrille Marcant
Eve Caron
Francis Bouchard
Julien Hénault-Ratelle
Laurence Fouquette-L'Anglais
Maxime Landry
Noémie Lawson
Olivier Rivas
Teodora Toteva
Tinca Stokojnik Prouvost
Yun Li
For RODEO FX/BLVD MTL, thanks to
Director: Patrick Boivin
VFX Supervisor: Erik Gagnon
On-Set Supervisor: Olivier Barbès-Morin
CG Supervisor: Ricardo Solter
Executive Producer: Marc-Antoine Lambert
VFX Producer: Elise Voyer
Production Coordinator: Audrée-Anne Prieur
VFX Coordinator: Julie Taxil
CMM: Jonathan Asselin
Modelling and Lighting: Ricardo Solter
Animation: Raul Baeza
FX and Simulation: Simon Bussière
Compositing: Eddy Chan, Saul Rodriguez
Rotoscoping and Digital Painting: Camille Potvin
Online: Erik Gagnon
Colourization: Benoît Côté
Audio Production: Mélissa Roux and Sophie Champagne
Sound Design and Mixing: Marc Rémillard