First media tour focusing on international students
July 5, 2019
Six journalists from Brazil, France, Hong Kong, Morocco and Mexico recently visited Montréal on the first-ever media tour showcasing the benefits of studying in Greater Montréal.
Mainstream media taking an interest in Montréal
With a record number of international students in the city (close to 35,500 international students enrolled at universities in 2018), the region has become an increasingly popular destination for young people. And that is hardly surprising given that Montréal earned the top spot for Student View in the 2018 QS rankings, while being voted best student city in the Americas and fourth best in the world.
The journalists had the opportunity to explore Montréal by meeting with international students and representatives of various Montréal institutions. In addition to attending meetings, which were key to helping them fully understand the Montréal student experience, the journalists also participated in cultural activities. "Montréal is clearly the destination of choice for students, as it offers everything students are looking for in terms of academic programs and quality of life," said one of the participants.
Media coverage
The tour has generated five articles in the international press:
What's more, the partners also enjoyed meeting the journalists. A LogMeIn employee, for instance, wrote on LinkedIn that participants had engaged in an insightful conversation about employment opportunities available to foreign workers.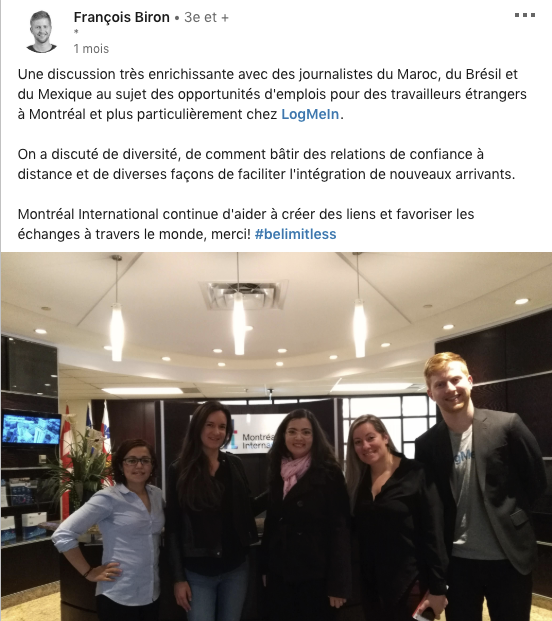 An annual tour
The first-ever media tour showcasing the benefits of studying in Montréal was such a success that Montréal International is hoping to repeat the experience every year. To learn more about studying in Greater Montréal, visit the I choose Montréal website.
Participating institutions
China Canada Junior Chamber of Commerce (CCJCC)
HEC Montréal
LogMeIn
MILA
Polytechnique Montréal
Quartier de l'innovation
Tourisme Montréal
Concordia University
McGill University
Université de Montréal
Université du Québec à Montréal (UQAM)
Young Chinese Professionals Association (YCPA)