Greater Montréal in full force at the Paris Air Show
June 19, 2023
As the race to decarbonize aviation and attract skilled talent heats up, Montréal International is attending the Paris Air Show to support the growth of Greater Montréal's aerospace sector.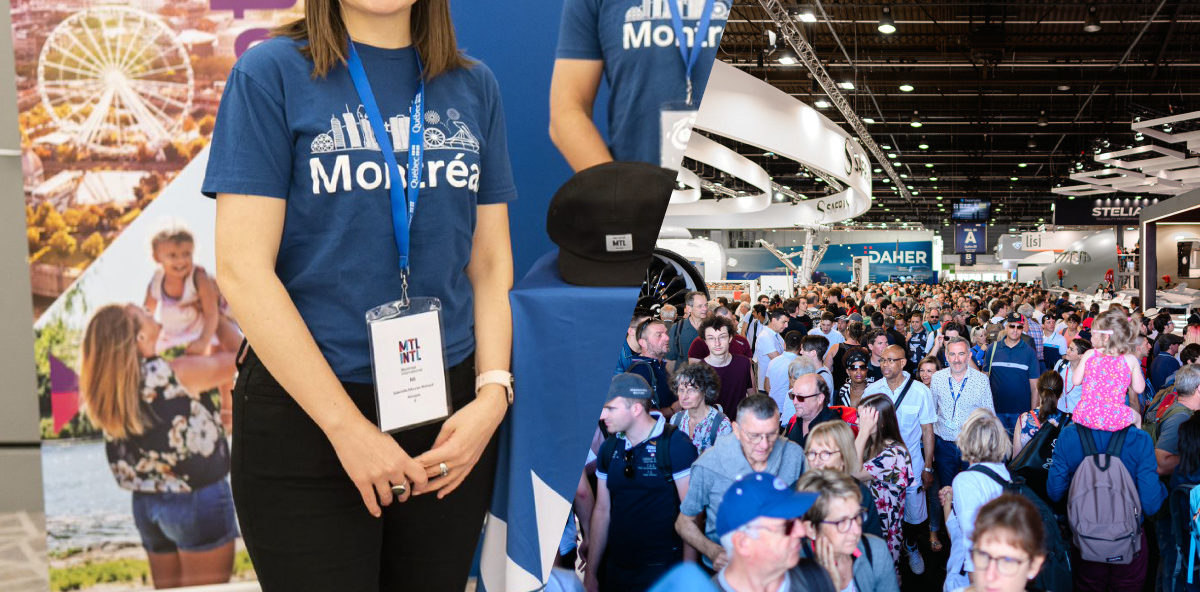 For the first time in its history, Montréal International is undertaking a triple mission at the Paris Air Show. Not only will our teams be on hand to present Greater Montréal's aerospace ecosystem to foreign investors, but also to help a dozen local companies recruit the talent they need to meet the increasing demand. Adding to these efforts will be the promotion of our higher education establishments to international students with the aim to train the next generation of talent in this rapidly evolving sector.
The aerospace industry is at a defining moment. After the shock brought on by the global pandemic, the air transport sector is back on track as evidenced by the 200 or so job vacancies at our Journées Québec aéronautique recruitment event within the Paris Air Show, organized with our partners, the ministère de l'Immigration, de la Francisation et de l'Intégration and Investissement Québec International. What's more, the race to decarbonize aviation by 2050 and the development of advanced air mobility services are creating new opportunities for growth.
For example, Greater Montréal is already showing strong leadership in sustainable aviation. In the last ten months, several foreign investors have opened subsidiaries here to develop new technologies supporting engine electrification. They include Beta Technologies from Vermont, H55 from Switzerland and Ricardo from the UK.
There's also a lot going on in the field of advanced air mobility (AAM). In the past year, at least three companies have opened facilities in Greater Montréal to develop electric vertical take-off and landing (eVTOL) aircraft: Dufour Aerospace (Switzerland), Beta Technologies (USA, Vermont) and Wisk Aero (USA, California), in addition to Jaunt Air Mobility (established in March 2022).
A thriving ecosystem
These players chose Greater Montréal because it is home to a critical mass of specialized companies with which they can create synergies. And because the region is home to a large pool of highly qualified talent who can take their projects to the next level.
Indeed, developing tomorrow's air mobility will require specialists in a wide variety of fields. And as a global hub for aerospace and information technology, Greater Montréal is particularly well positioned to lead the way. Furthermore, Canada's enviable reputation for certification is another major asset in ensuring the reliability and safety of these new technologies.
---
Over the past two years, Montréal International has supported 16 foreign direct investment (FDI) projects in the aerospace sector worth a total of $551 million. These 16 projects have created nearly 1,500 jobs with an average annual salary of over $82,000.
---
Greater Montréal's aerospace sector at a glance
More than 230 companies
Over 37,000 jobs
A diversified ecosystem: commercial aircraft, business jets, helicopters, engines, simulators
Up-and-coming industry clusters: aircraft electrification, hybrid-electric propulsion, advanced air mobility, drones
75% of Canada's aerospace R&D
Thanks to all the partners involved in this unique mission: Canada Economic Development for Quebec Regions, the Ministère de l'Économie, de l'Innovation et de l'Énergie, the Ministère de l'Immigration, de la Francisation et de l'Intégration, the Ministère des Relations internationales et de la Francophonie, Investissement Québec International and Aéro Montréal