International entrepreneurship: Greater Montréal is all in
April 28, 2023
The cities of Montréal, Laval and Longueuil, as well as Desjardins, the largest private partner of Montréal International, are mobilizing to support entrepreneurship in the Greater Montréal area by providing funding to extend MI's International entrepreneurship mandate.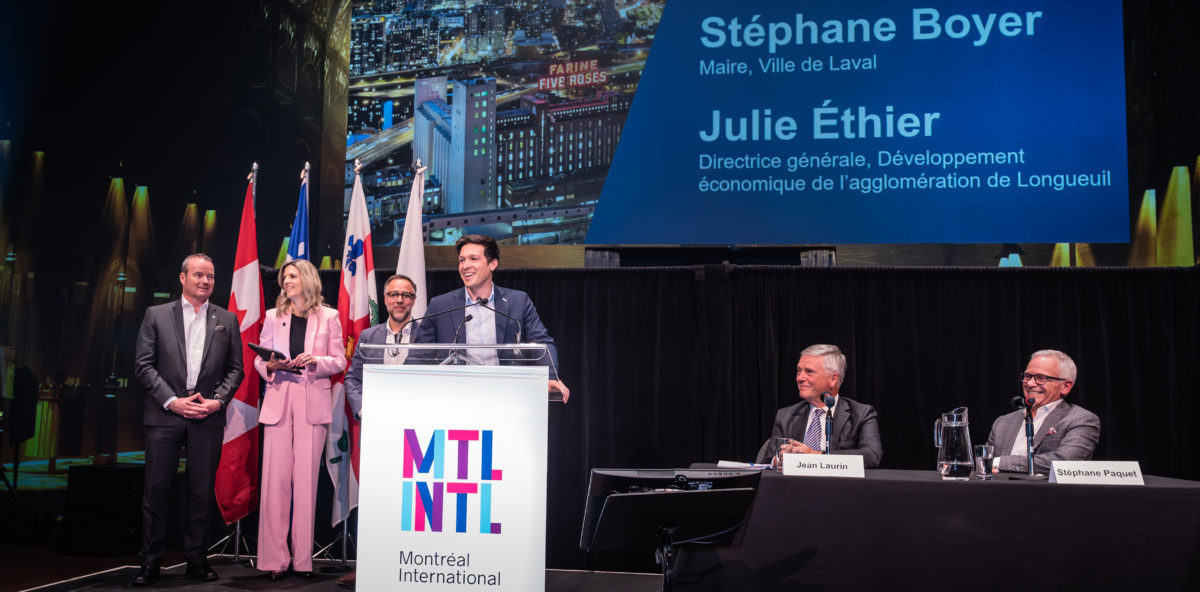 Montréal, Desjardins, Laval and Longueuil announced new funding for our International entrepreneurship mandate at MI's annual general meeting on April 27. From left to right: Mario Lapierre, Vice-President, Specialized Services and Online Business Centre, Desjardins; Julie Éthier, Executive Director, Développement économique de l'agglomération de Longueuil; Luc Rabouin, Mayor of the borough of Le Plateau-Mont-Royal and member of the Executive Committee of the City of Montréal; Stéphane Boyer, Mayor of the City of Laval; Jean Laurin, Chairman of the Board of Directors, Montréal International; and Stéphane Paquet, President and CEO, Montréal International.
---
This unique mandate has yielded results: over the last five years, MI has supported 37 international startup projects in Greater Montréal in key sectors of the economy. These young companies alone have raised some $33 million in capital and generated 339 quality jobs.
Why is it so important to attract international entrepreneurs to the city? Because they help develop our ecosystems while increasing co-investment opportunities with local partners, thus contributing to the growth of our small and medium-sized enterprises.
With the financial support of the City of Montréal, Desjardins, and the cities of Laval and Longueuil, we will be able to build on this momentum and attract more international venture capitalists to Greater Montréal.
Targeted actions to attract foreign entrepreneurs
With its highly reputable research and educational institutions, its cutting-edge ecosystems, as well as its top-performing business incubators and accelerators, Greater Montréal offers invaluable resources to entrepreneurs searching for the best city to launch their startup. But getting the information out is key.
This is where Montréal International comes in. Our actions aim to generate high added value by targeting sectors with high innovation potential: artificial intelligence, clean technologies, life sciences and health technologies, FinTech, information technologies and creative industries, etc.
To maximize its impact, MI will be increasing its collaborations with business incubators and accelerators in the Greater Montréal area, while enhancing its prospecting in Europe, French-speaking countries and the United States. In addition, our teams will participate in key events to promote the metropolitan region as an exceptional place to start a business.
To learn more, contact our expert.