Journey to the centre of Greater Montréal's AI industry
Montréal International hosted a group of international journalists on May 23, as part of an exploratory journey of the Canadian AI ecosystem.
The tour was arranged by Global Affairs Canada – with stopovers in Toronto, Edmonton and Vancouver – and promoted the many advantages that Greater Montréal has to offer.
The group included 11 veteran journalists from Germany, Austria, Brazil, U.S., France, Italy, Japan, Netherlands, Singapore, and China. They make up some of the most strategic countries from which to increase foreign investments. The journalists were hand-picked by a committee of experts. They write for major dailies (Kurier, La Stampa, Het Financieele Dagblad, Kyodo News), and even specialized publications (AI Trends, Techgoondu).
To provide a representative overview of the Montréal AI ecosystem, Montréal International planned a rich and diversified program that allowed them to touch on all topics, from the arrival of major players to the talent pool, as well as research, ethical issues and industrial applications.
The journalists were first brought over to the C2 Montréal site, where the second annual AI Forum was being held, and where the MI team gave them the full picture of Greater Montréal's economy and its AI sector.
Our guests then had the opportunity to meet with the distinguished Yoshua Bengio, professor at Université de Montréal's Department of Computer Science and Operations Research, and Head of the Montréal Institute for Learning Algorithms (MILA), as well as with Jean-François Gagné (@jfgagne), CEO and co-founder of Element AI, and the Honourable François-Philippe Champagne, Minister of International Trade.
The visitors were then ferried to TandemLaunch – one of the key startup accelerators in the city – where eight startups presented the results of their work, before heading to the site of Thales' future Centre of Research and Technology in Artificial Intelligence eXpertise (CortAIx) in Mile-Ex.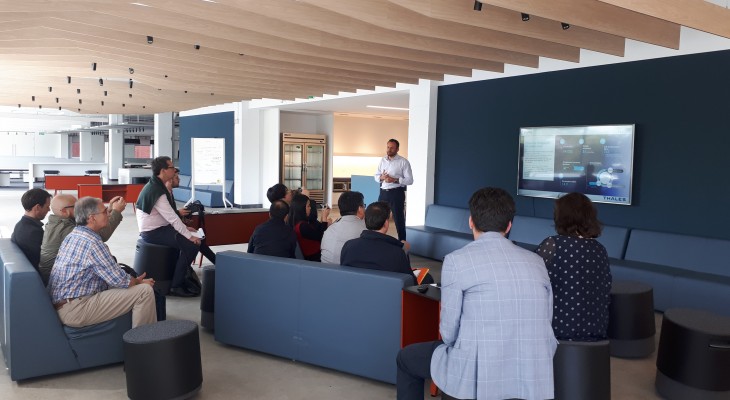 "You'll quickly understand why 11 of the 48 investment projects supported by Montréal International in 2017 were concentrated solely in the AI sector," pointed out Stéphane Paquet, Vice President, Foreign Investments & International Organizations, during the introduction.
 "The high concentration of researchers and the spirit of collaboration in Montréal's ecosystem are known the world over and they help position Greater Montréal among the most attractive cities for foreign businesses and current skilled workers.".
Recall that, as a result of all its efforts in conducting business missions and providing strategic support, Montréal International supported foreign direct investment projects worth a record $2 billion last year. Foreign companies alone yielded $2.4 billion of the GDP, accounting for a 15% boost in the Québec economy.