Montréal pulls out all the stops at GDC
Montréal pulled out all the stops to lure video game professionals at the Game Developers Conference (GDC), the largest industry gathering that took place in San Francisco from March 19 to 23.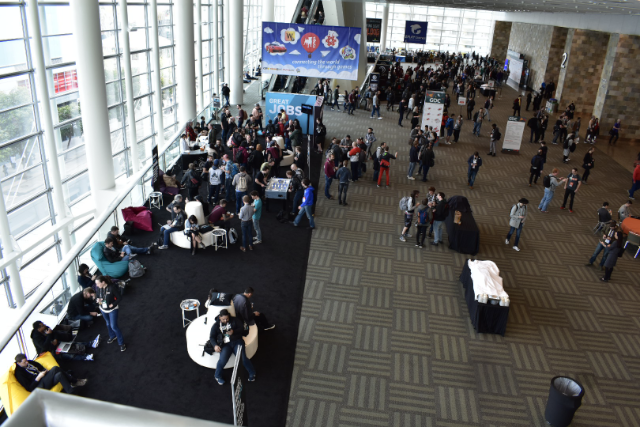 The Montréal International team (@TalentMontreal), accompanied by some thirty Montréal studios, made great efforts to promote Greater Montréal to all the talent at GDC seeking a career abroad.
The Montréal booth was quite visible, positioned at the entrance to the assembly halls, and was quickly swarmed by visitors.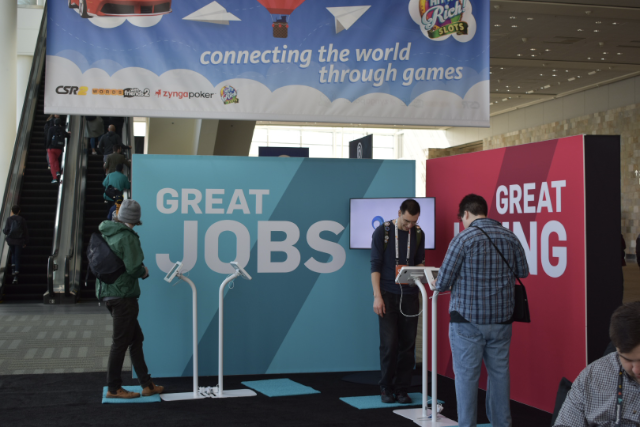 The booth was equipped with tablets that visitors could use to apply for one of the 130 job offers listed in Montréal, and figure out the cost of living in Greater Montréal compared to other major cities (comparison tool).
"With more than 25,000 attendees from all over the world, GDC is a prime venue for promoting everything Greater Montréal has to offer to a fresh lot of highly qualified and experienced talent," said Hubert Bolduc, President and CEO of Montréal International. "More than a hundred people have already created a profile to apply for a job during GDC, and we believe the spinoffs from this initiative will be felt throughout the next few months."
A booming industry
Ranked among the Top 5 game development cities in the world by Game Industry Career Guide, Greater Montréal is home to 140 studios that are the best among the world, as well as a number of independent studios that are doing quite well.
According to Entertainment Software Association of Canada (ESAC), the industry has experienced a 42% hike in the number of companies in Québec since 2015, and growth prospects are still quite high for the coming years. Moreover, in 2017 there were 10,000 full-time workers in Québec, accounting for more than half of the Canadian jobs in the industry.
In order to meet the increasing needs of booming cutting-edge industries such as the video game industry, the Montréal International team stepped up its efforts in 2017, targeting large-scale industry events.
In total, eight international recruiting missions were organized and helped staff some sixty Greater Montréal companies with 300 qualified and experienced workers.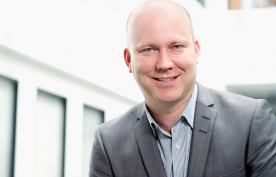 Go to the Strategic Talents section of our website to learn more about services available to companies or contact David Lebel to participate in one of our upcoming international recruiting missions.